Tobey Maguire: Andrew Garfield Is 'F**king Perfect' as Spider-Man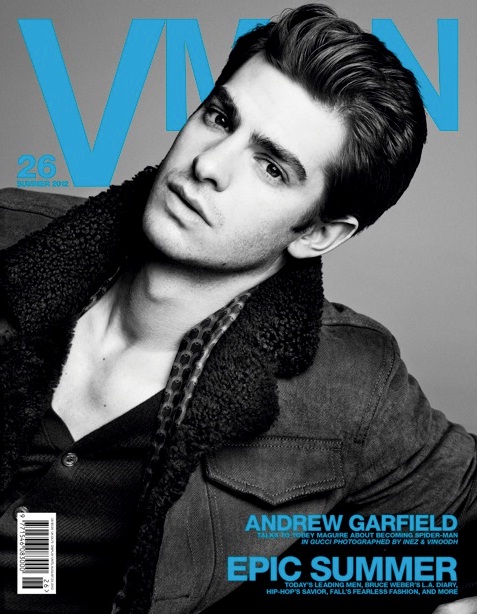 There have been thirteen Supermans, eight Batmans, four Bruce Banners (plus one Lou Ferrigno), and five Raphael the Mutant Turtles. So you've got to imagine that at one point or another, two people who have played the same iconic character might get together to duke it out, or share war stories about battling arch nemeses.
But it's a special kind of moment when a new actor to get in the superhero game receives the kind of blessing that Andrew Garfield got from Tobey Maguire. VMAN published a conversation between the Spider-Man portrayers, wherein Maguire had nothing but nice things to say about his successor, who will don the red suit in Marc Webb's The Amazing Spider-Man.
Says Maguire, "When it was coming together, I was particularly excited at two moments: one was when Marc Webb got involved. I think he's an interesting and cool choice. And then I was certainly curious as to who was going to play Peter Parker. When I heard it was [Garfield], I was literally like, f**king perfect! I just want it to be great, and I thought, 'What a great actor Andrew is.' I'm glad that's what's happening here."
Even with all this praise, Garfield is taking his identity as "the new Spider-Man" with a grain of salt, understanding that he is just a part of something larger. Says the young actor, "Right now I have a host of fears that I'm contending with on a minute-to-minute basis … I'm the guy in suit and there'll be another guy in the suit later on down the line. This whole celebrity myth is very new and interesting to me, whether one can just be an actor and also be in one of these roles.
Garfield continues on the topic: "I just feel such a great responsibility to the story and to the fans, because I know in my heart how much this character means to people, because it means that much to me. For the sake of all the people who care about it as much as I do—I want to bring the character to life and make sure they're as satisfied as they can possibly be."
It's heartwarming to see cinema's two Peter Parkers coexisting in such a perfect harmony. There's a lot that Garfield can learn from Maguire. But hopefully, Garfield won't follow exactly in his predecessor's footsteps… rather, dance steps.
This issue of VMAN hits shelves May 17.
More:
'Amazing Spider-Man': The Lizard in All His Reptilian Glory — PICS
'Amazing Spider-Man' Poster: Andrew Garfield is Right at Home in New York City