Today At Comic-Con: Is Benedict Cumberbatch Going To Play 'Dr. Strange?'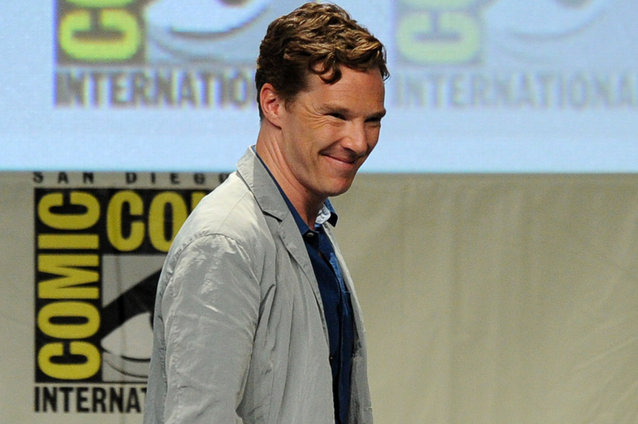 Getty Images/Kevin Winter
San Diego Comic-Con: the annual gathering of comic book nerds, blockbuster action movie fans and the slightly terrifying people who still watch Supernatural religiously. It's the biggest pop culture event of the year, a time when studios bring the biggest and most shriek-inducing stars together to unveil new projects and showcase the exciting things fans will eventually be camped out all night for. And even though not all of us are lucky enough to experience Comic-Con in person, that doesn't mean we don't deserve to get all the up-to-the-minute news, reports and surprises. Since we here at Hollywood.com don't want you to miss out on all the excitement happening in Hall H or the surprises being unveiled over the weekend, we're running down the biggest news to come out of San Diego during the convention to ensure you can stay on top of everything, whether you're stuck in the office or waiting in line for another sold out panel. 
Dr. Strange? More Like Dr. Nope
Sure, there are other panels happening at Comic-Con this year, but all anyone really cares about are the new films and casts that Marvel is set to unveil on Saturday. And since Dr. Strange just happens to be one of those films and Benedict Cumberbatch is rumored to be the frontrunner for the role, MTV just happened to ask him to reveal whether he will indeed be playing the super-powered sorcerer.  His answer? "As far as I'm aware, even if that was the case, it couldn't work out because I'm doing a little play called 'Hamlet' in London, so I don't think I could even if that was in the cards. It sounds like a fantastic project. It's a shame if I miss out, but who knows?" So, it's not an outright "no," but it seems like Marvel might have to look elsewhere for their Dr. Strange.
There's No Stan Lee Cameo This Time
A living legend in the comic book world, Stan Lee has basically become the face of Comic-Con, attending all but a select few since its inception over forty years ago. Unfortunately, we're going to have to add 2014 to the absentee list; according to The Hollywood Reporter, Lee has cancelled his appearance after losing his voice to a bad bout of laryngitis, and he certainly can't command a convention center without a voice.  Don't get too upset, though: his cameo in the upcoming Guardians of the Galaxy  has already been filmed, so no illness will keep you from seeing him then.
A 24 Movie May Be In the Works
The key word there is "maybe." According to Deadline, star Kiefer Sutherland and executive producer/director John Cassar mentioned during the 24 panel that officially kicked off this year's con that they were "still talking" about a movie now that the series' reboot has been so successful. Of course, that didn't stop fans from freaking out about the mere possibility of it, but Comic-Con's a place for overwhelming enthusiasm. They could announce another Ryan Reynolds Green Lantern film and people would be excited. 
Twenty Hours to Cumberbatch
Waiting in absurdly long lines are a time-honored tradition of Comic-Con, but some of them are redefining the word "dedication," like the ones who lined up to see Cumberbatch on the Dreamworks Animation panel a whole 20 hours early (via CinemaBlend). That's right: they waited almost an entire day to watch Cumberbatch talk about voicing a cartoon wolf in the new Penguins of Madagascar  movie. Not Sherlock, not The Hobbit, not Star Trek.  Penguins.
Na na na na na na na… Batsuit!
If you thought the set picture of Ben Affleck in the latest incarnation of the Batsuit was too dark to actually see anything – seriously, has Zach Snyder ever met a shadow he didn't feel the need to add in? – then DC has answered your prayers. The studio unveiled Affleck's redesigned cape and cowl for Comic-Con visitors to compare against the ones in the comics live and in-person, and /Film has plenty of pictures for those of us who prefer to critique costume choices from our own homes.
Avengers Assemble (Literally)
In anticipation of their no doubt world-shattering panel this weekend, Marvel has released several exclusive posters for the Avengers: Age of Ultron  featuring concept art from the film. But like Beyonce's visual album, all of the individually exciting parts come together to make an even more exciting whole. In this case, it's a bigger group image that sees the team fighting side-by-side. The Dissolve has already started putting it together for you, so as long as you find that last corner piece, you should be all set.