Today in 'Prometheus' Fake History: Weyland Corp Founded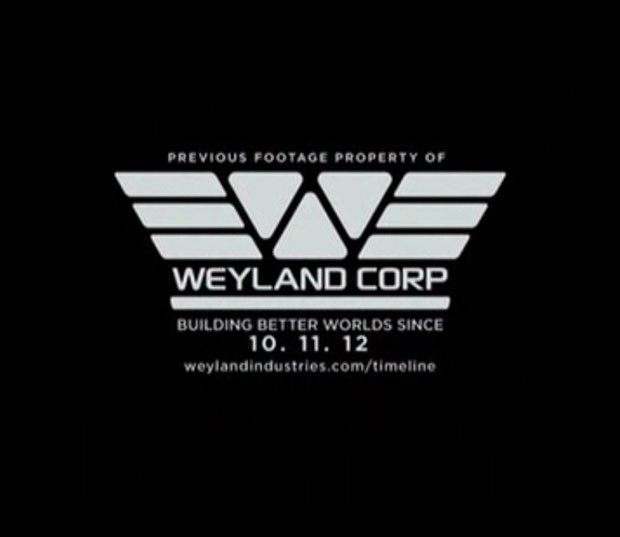 When historians look back at today, October 11, 2012, they'll remember it as the day Vice President Joe Biden debated Paul Ryan. They'll remember a Syrian-bound plane forced to land in Turkey because it was carrying Russian munitions. They'll remember that CW's Beauty and the Beast wasn't very good.
But thanks to the wonders of movie magic, even on the day of, we can look back and fondly recall a major historical event. On this day in history, Weyland Corp, the conglomerate behind the Prometheus Project, was founded.
Those who caught Prometheus this summer were treated to a post-credits tease of the Weyland Corp logo, which packed a fun revelation: the fictional company began in 2012. Viral campaign detectives immediately speculated on what would be revealed on 10/11/12, hopeful that the expansive world set up in Ridley Scott's sci-fi film was only the beginning of the Prometheus experience.
They were kind of right. This week marked the release of Prometheus on Blu-ray, and with that, a wave of behind-the-scenes and additional material tied to the film. The official Prometheus timeline website cited in the Weyland graphic is pretty cut and dry for the major milestone ("Weyland Corporation is recognized as a legal entity and corporation under United States law and receives their Certificate of Incorporation….") and going through the rabbit hole only reveals an inside look into the Blu-ray special features. But for an inquiring fan, the material is drool-worthy.
See one impressive bit of the newly released Prometheus viral, an infographic detailing the effects of the film's mysterious black goo. And be sure to check out our rundown of future dates established in movies — you don't want to miss an occasion to celebrate your favorite sci-fi.

Follow Matt Patches on Twitter @misterpatches
[Photo Credit: 20th Century Fox]
More:
'Prometheus': David's Quote to the Engineer Revealed! (Spoiler Alert!)
'Back to the Future' Hoax Strikes Again: 9 Future Dates to Put on Your Calendar
Prometheus': 13 Questions We Want Answers To — SPOILER-HEAVY