Tom Cruise Joins 'Man from U.N.C.L.E.'… Which Sounds a Lot Like 'Mission: Impossible'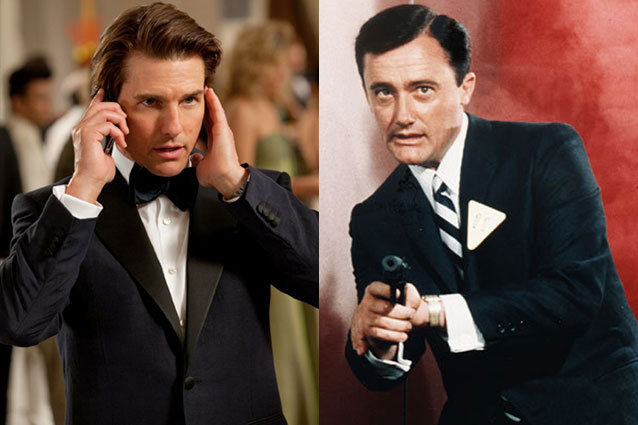 As Tom Cruise's pull on the American public begins to falter, with Rock of Ages and Jack Reacher raking in unimpressive grosses, the actor is wise to hold fast to his fail-safe franchise: Mission: Impossible, a film series that continues to make him big bucks. Cruise is already signed on for a fifth Ethan Hunt adventure, but that's not quite enough — he needs more. More Mission: Impossible. Or at the very least, a movie that's exactly the same as Mission: Impossible. Like The Man from U.N.C.L.E..
The Warner Bros. adaptation, originally a platform for George Clooney, is now in negotiations to hand its title character Napoleon Solo to Cruise, as reported by Deadline. Guy Ritchie is set to direct the reboot of NBC's 1960s spy series, which pit American agent Solo and his Georgian partner Illya Kuryakin against the international forces of tyranny.
RELATED: Tom Cruise, Morgan Freeman Battle in 'Oblivion' Trailer
Of course, those didactic fans of the original Mission: Impossible  CBS show or U.N.C.L.E. will defend the stark dissimilarities between the programs, most notably the latter's more vivid sense of humor. But in the grand scheme of things, this new endeavor is hardly a departure from Cruise's existing series: another spy flick drawn from a popular 1960s television show that tackled then-pertinent sociopolitical issues.
With Ritchie as director, we can assume that Cruise won't be wanting for fast-paced, high-flying adventure scenes; and as far as cool alpha-male names go, Napoleon Solo actually beats out the noble contender of Ethan Hunt. So even if Mission: Impossible (whose fifth entry is being helmed by Christopher McQuarrie and is on course for 2015) flickers out soon, Cruise might have a new spy franchise in the works.
Follow Michael Arbeiter on Twitter @MichaelArbeiter
[Photo Credit: Paramount Pictures; NBC]
---
You Might Also Like:


15 Oscar-Winning Nude Scenes


Young Jack Black Is Totally Unrecognizable