Tom Cruise Really, Really Wants to Make the Comedy 'El Presidente' with Jack Nicholson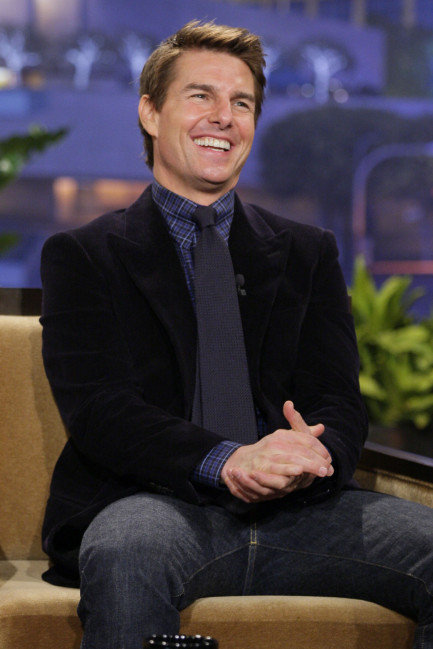 NBC
Tom Cruise seriously wants to make El Presidente happen, so much so that he showed up at Jack Nicholson's house to try and convince him to co-star in the film, says The Hollywood Reporter. The Warner Bros. film, which has been in the works since 2010, is Cruise's chance to reunite the A Few Good Men stars and enter into the world of comedy.
The film, now being directed by Doug Liman (The Bourne Identity and Mr. & Mrs. Smith) instead of Jay Roach, follows "a straight-arrow Secret Service agent [Cruise] who is assigned to protect America's worst former president, an alcoholic and womanizing sleazebag who was elevated from VP when the president died." And when a threat is made against the president, the motley duo must flee.
While it was originally rumored that Nicholson would take on the role of the president, it looks like it's going to take more than a gift basket to get the 76-year-old actor to officially sign on to the project. According to a THR source, Cruise and Liman visited Nicholson's home in an effort to convince him to join the comedy. Supposedly, Cruise claimed that "he won't do the movie without him."
So why does Cruise want this movie to be made so badly? We can only make guesses, but we're thinking that the traditionally action-focused star wants to see if a comedy is just the trick he needs to move his career in a different direction. The combination of Cruise's mainly adventure/action/drama roles with his Scientology reputation has led to him having quite an intense image, and the actor might be looking to change things up… perhaps for the benefit of his box office intake of late. While he had a more light-hearted role in Risky Business and a bizarre fat-suit role in 2008's Tropic Thunder, the comedic roles aren't enough to balance out his other acting credentials (or elevate him to the status of a comedic actor). Cruise might be hoping that if he lands El Presidente, and more importantly Nicholson, he'll be able to showcase a whole other side to himself — a side that audiences might take to. And we think that if he were to turn the movie into an actually good comedy, then the plan might just work.
But whether the film ends up happening or not, we hope that one day we'll be able to see Nicholson play an ammusing, alcoholic president, because that just sounds ridiculously entertaining.