Tom Hanks & Halle Berry Talk 'Cloud Atlas' and Real Life Soulmates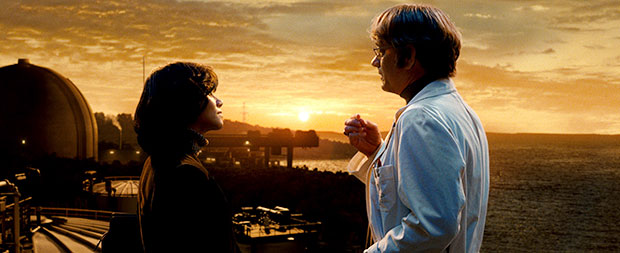 Taking on the task of adapting David Mitchell's best-selling novel Cloud Atlas to the big screen was not just an ambitious challenge, but also a passion-driven financial risk that was seen as a chance for the Lana and Andy Wachowski and Tom Tykwer to make another mind-boggling concept, which was already written in the stars.
"[David] writes the novel, Natalie Portman reads the novel on the set of [V for] Vendetta, I see it, I read it, Andy reads it, Tom reads it and now we are here," says Lana Wachowski, half the mastermind behind The Matrix, at a roundtable interview in Los Angeles. "We were given this book and it was an opportunity, it was the comet that came into our lives."
Cloud Atlas follows six storylines spanning across five centuries, featuring an all-star Hollywood cast – Tom Hanks, Halle Berry, Jim Broadbent, Hugo Weaving, Jim Sturgess, Doona Bae, Ben Whishaw, James D'Arcy, Susan Sarandon and Hugh Grant –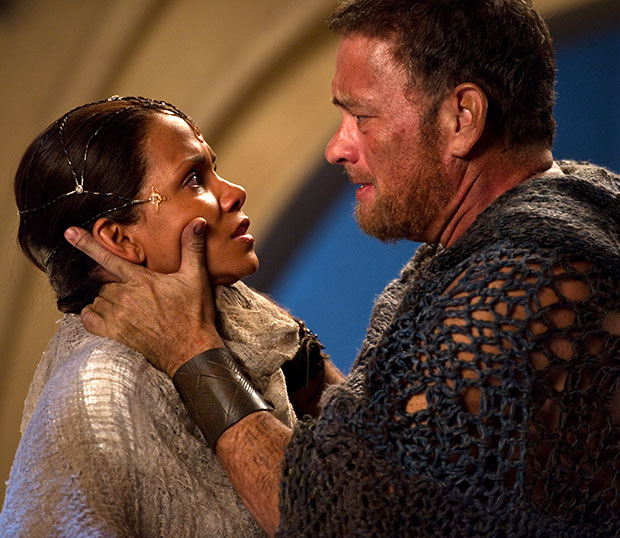 that illustrates how the events, decisions and actions of an individual will transcend to others directly correlated with them in the future.
Because of the eternal recurrence consistency throughout the film's reincarnation theme, Cloud Atlas became a once-in-a-lifetime project for actors to portray multiple characters in one film. As Harry Berry explained, "I loved the evolution of the characters and I loved the totality of every single one of them… Every character, every part that everyone had to play was equally as important to telling the story."
The almost three-hour film can be a little complex with the multitude of stories, but one motive that prevails in every time period and lifetime was love. One of the film's most captivating stories was a crime thriller segment that follows soul mates Isaac Sachs (Hanks) and Luisa Ray (Berry).
"My favorite role is Isaac Sachs, because he is literally a version of myself where he writes down these equations," says Academy Award-winner Tom Hanks. "He writes the atlas, but comes across the cloud. He's on the plane, and he says, "Okay, I've fallen in love with Luisa Ray and now things are profoundly different for me." I relate to that, because that's what I went through with my wife [Rita Wilson]. Without a doubt. So that happens. You have to be lucky enough to stumble across them."
Even though Hanks may have had his fair share of luck in his personal life, Berry, his on-screen other half had her share of bad luck during the filming of Cloud Atlas. During the shoot Berry broke her foot off-set and worried she would derail years of planning of the Wachowski & Co. film.
"I thought after the day after it happened, I heard, 'Lana and Andy want to come see you,' I thought they were surely going to give me my papers and tell me, 'Back on the plane,'" the Oscar-winning actress revealed.
"But I was so touched … I cried so hard when they said, 'No, a bump in the road. We're going to fix this.'"The Wachowski siblings and Tykwer became accustomed to challenges as they pursued getting Cloud Atlas being made, because it was considered "unfilmable" and similar to the siblings' first blockbuster The Matrix, the film is demanding and took years to finally get the green light from Warner Bros.
But parallel to the film, Wachowski & Co. — who didn't receive any paychecks as directors, even investing their own money into the project — maintained their faith, carrying out their labor of love, which will leave audiences thinking about their own lives and they way they're living after they walk out of the movie theater.
"The making of this movie was filled with challenges and conventions that sort of had to be transcended, " Lana explained. "Even in the convention of the film everyone looks at it and thinks, 'Oh, is this an art house film or is a mainstream film?' It's a convention that the movie is attempting to transcend."
Cloud Atlas hits theaters Friday, October 26.
[Photo Credit: Warner Bros. Pictures (3)]
More:
TIFF 2012: 'Cloud Atlas' Is a Big Picture That Explores the Big Picture
'Cloud Atlas' Collides Past, Present & Future in an Epic Six Minutes — TRAILER