Go on a 'Tomorrowland' Internet Treasure Hunt (Seriously, Do It, It's Awesome)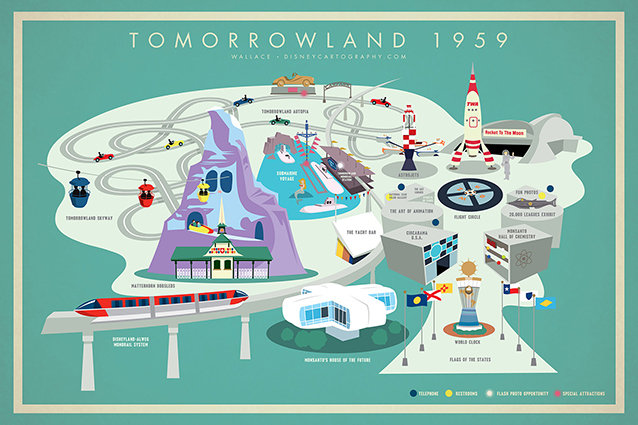 The best way to learn about something, as I was taught early on in life by a derelict who lived in my neighborhood laundromat, is to dive into it headfirst. To throw caution to the wind and embark upon whatever adventures this subject matter might hold without so much as a crinkle of your brow. He might have just been trying to sell me whatever it was that he kept in that gym bag, but the sentiment holds true — and it's one that has reared its head again in association with the mystery that is Brad Bird's developing Disney epic Tomorrowland.
We know very little about the upcoming picture, which is set to star Britt Robertson and George Clooney. We know it features a young girl with big dreams and a knack for the gadgets. We think it involves a washed up genius on a quest resolve his banishment from the titular kingdom. We hope it involves a pre-pubescent robot, however little sense that seems to make. All that, and a box of nebulous junk, are all we have to go by. But the good graces of the Internet are bequeathing unto us interested parties some new hints in the form of a digital treasure hunt.
By taking the first step and heading over to The Optimist, you'll begin your journey with an introduction to the story of Walter Elias Disney "an optimist who believed in creating a living blueprint for the future." Get in on the game, which is adding new segments every day (so even if you hit a wall now, check back tomorrow!), and learn everything you can about the invigorating new Disney movie.
And keep an open mind. As the laundromat hobo said, "Anything is possible." He also said, "Cranberries are tiny cameras that the government uses to monitor our insides," but they can't all be winners.
Follow Michael Arbeiter on Twitter @MichaelArbeiter | Follow hollywood.com on Twitter @hollywood_com
More:
New Details About 'Tomorrowland'
Brad Bird's 'Tomorrowland' Sounds Insane
'Tomorrowland': What's In the Box?!
---
From Our Partners


Battle of the Bikini Bodies (Celebuzz)


Complete Guide to Strippers in Movies and TV (Vh1)