The V.I.L.T.F, Part I: Most Smokin' Male Vamps of All Time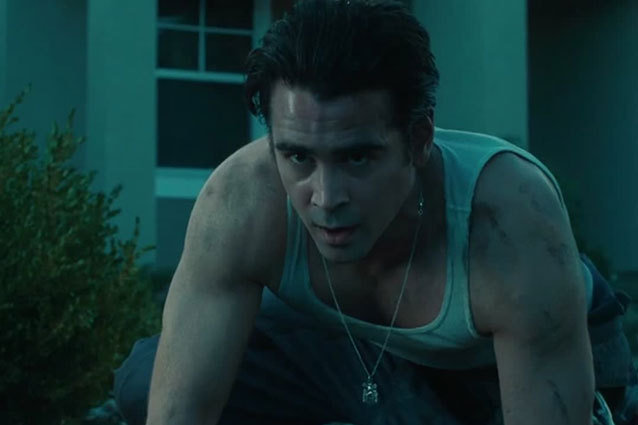 Columbia Pictures
In terms of vamp dudes, we've come a long way from the twisted Count Orlok in F. W. Murnau's 1922 German expressionist masterwork Nosferatu. He was a bat-eared freak. Nowadays, the prerequisite for vampdom is hotness.
Jason Patric in Lost Boys
Joel Schumacher has always had a penchant for Hollywood's up-and-coming eye candy. So of course he tapped Jason Patric to brood his way through this camp 80s Music Video for the Undead.
Kellan Lutz in Twilight
We were meant to be staring at Edward Cullen, but many an eye wandered over to his beefcake bro, Emmett. Pale, yes, but frail, not in the slightest.
>
Colin Farrell in Fright Night
Another of Joel Schumacher's protégés, Colin Farrell, has been experiencing the inevitable Tinsel Town beefcake career arc, the transition from heartthrob to villain. He was cute in his earlier hero roles, but Farrell was born to play a nasty a vamp.
Scott Speedman in Underworld
All right, you buzzkill purists: technically Scott Speedman is a vampire/lycan hybrid. Loosen up. He's too hot to leave off this list, and here's a friendly reminder of it.
Karl Urban in Priest
Karl Urban is pure evil as Black Hat in Priest. But he's still quietly smoldering, with his clench-toothed Clint Eastwood whisper.
More:
The Lost Boys
Fright Night
The Vampire Syllabus: You Can't Matriculate Without Seeing 'Near Dark'
---
From Our Partners:


40 Most Revealing See-Through Red Carpet Looks (Vh1)


15 Stars Share Secrets of their Sex Lives (Celebuzz)