'Top Gun' Heads to IMAX 3D: Four Reasons To Hop on The Highway to The Danger Zone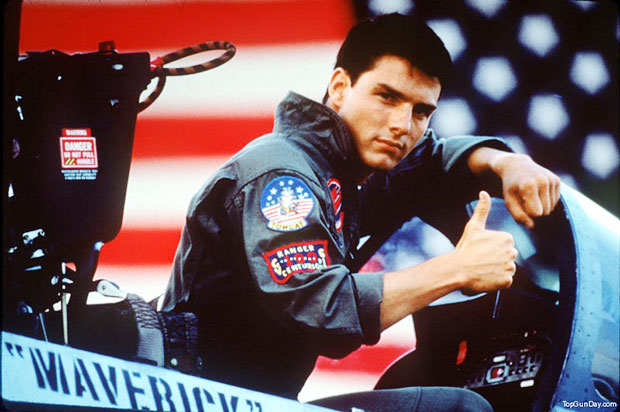 If
Indy gets to
give the big screen another go, Maverick certainly needs his day in theaters too. Good news, flight school enthusiasts! That day is set: Feb. 8, 2013 the
late Tony Scott's
beloved Navy tale
Top Gun
will screech onto the big screen in IMAX 3D. That's certainly one way to cruise on through to the Danger Zone. In case you're not standing on your chair proclaiming that you've got the need (the need for speed) in celebration of this news, we've got a few reasons the announcement should put a little pep in your step.
1. If 3D Technology Wasn't Made For Fighter Jets, What Else Is It For?
We were introduced to the glory of an IMAX 3D movie with flicks like
How to Train Your Dragon.
Now remember your favorite dragon-in-flight scene, turn the dragon into a jet, replace that cartoon kid with Tom Cruise pre-couch-jumping incident, and add some rousing '80s rock: 3D bait if I ever saw it.
2. Nostalgia is So Hot Right Now
If you're not remembering the good ol' days or petitioning your favorite '90s sitcom ensemble to do a reunion, you aren't doing this moment in time right. Naturally, taking a journey back to this classic 1986 action movie is a necessary step in a culture focused on loving and re-living the past.
3. We Miss Late '80s Tom Cruise
This is the Cruise that went onto become 1990's Sexiest Man Alive. This is the Cruise whose relationship with Hollywood starlet
Nicole Kidman
was the stuff of legends. This was the Cruise before we all became cynics. Sure, he's happy doing his thing, sliding across stages (half) dressed as an '80s rocker in
Rock of Ages
and killing bad guys in one shot in
Jack Reacher
, but there's something to be said for innocent arrogance of Cruise before the '90s.
4. You've Lost That Loving Feeling
Maybe you don't remember how much you loved
Top Gun
when you were younger. You've been hardened by a thirst for more cerebral films, closing yourself off to the thoughtless exuberance of a movie about flying fighter planes to high-octane music. Perhaps you need the rousing experience of seeing the film in 3D to remind you that you can still use your brain and get down with glorious fluff that is
Top Gun
.
Follow Kelsea on Twitter @KelseaStahler
[Photo Credit: Paramount Pictures]
More:
Growing Up With Tony Scott's 'Top Gun'
How Do You Feel About the Release of 'Top Gun' in 3D?
Remembering Tony Scott and His Cinematic Legacy — VIDEOS
You Might Also Like:

6 TV Kids Who Vanished