'Total Recall' Star Colin Farrell Dishes His Biggest Hurdle: Bacon — VIDEO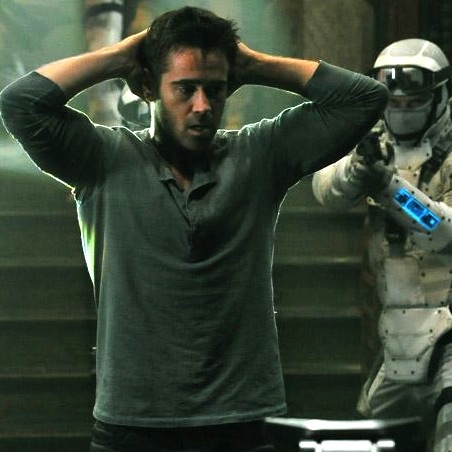 Say goodbye to Arnold Schwarzenegger's one-liners! Total Recall is back with Colin Farrell taking over the iconic role in a darker remake of Paul Verhoeven's 1990 classic.
Farrell plays Douglas Quaid, a factory worker living a normal life with his wife (Kate Beckinsale) until he visits Rekall, a company that claims to turn your wildest dreams into actual memories. It's his seemingly harmless request to elicit memories of a life as a secret agent that turns his real world upside down.
After his memory procedure at Rekall goes horribly awry, Quaid finds himself on the run from a police force controlled by Chancellor Cohaagen (Bryan Cranston). While being chased by authorities, Quaid must rediscover who he is and whom he can trust with the help of a rebel fighter (Jessica Biel). Like the original, this reboot is also inspired by the short story, "We Can Remember It For You Wholesale" by Philip K. Dick.
Hollywood.com recently sat down with Farrell to get the scoop on rebooting a classic movie, hitting the gym to prepare for the film (and avoiding bacon and Philly cheesesteaks), and who in his life acts as a "human GPS."
Don't miss Total Recall in theaters on Friday, August 3 and watch our exclusive interview with the actor below.
Follow Stephanie Wenger on Twitter @stephaniewenger
[Photo Credit: Sony Pictures]
More:
The Ladies of 'Total Recall' and the Best Female Badasses in Movies
'Total Recall': Bryan Cranston Is None Too Pleased with Kate Beckinsale — EXCLUSIVE CLIP
'Total Recall': The New Trailer Vs. the Schwarzenegger Version