'Total Recall' Tries for Box Office Win!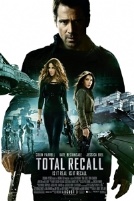 Sony Pictures re-boot of the sci-fi classic Total Recall stars Colin Farrell as the Douglas Quaid/Hauser character that Arnold Schwarzenegger played in the 1990 hit directed by Paul Verhoeven, which also co-starred Sharon Stone. Based on the Philip K. Dick short story "We Can Remember It For You Wholesale," this new version adds its share of kick-ass eye candy with both Jessica Biel (Blade Trinity) and Kate Beckinsale (Underworld franchise) acquitting themselves nicely in the strong female roles that they have so effectively inhabited in the past. The 1990 film was the seventh highest grossing film released that year and opened at number one with $25.5 million in 2,060 theaters. This PG-13 update of the R-rated original will battle The Dark Knight Rises for first place with a gross in the $28 million to low $30 million range in 3,601 theaters.
In honor of the original Total Recall, Here is a fun look at the Top Ten releases of 1990 (pretty impressive):
RANK TITLE DOMESTIC GROSS RELEASE DATE
1 HOME ALONE $285,761,243 Fri, 11/16/90
2 GHOST $217,618,602 Fri, 7/13/90
3 DANCES WITH WOLVES $184,208,848 Fri, 11/9/90
4 PRETTY WOMAN $178,406,268 Fri, 3/23/90
5 TEENAGE MUTANT NINJA TURTLES $135,265,915 Fri, 3/30/90
6 HUNT FOR RED OCTOBER $120,709,868 Fri, 3/2/90
7 TOTAL RECALL $119,394,840 Fri, 6/1/90
8 DIE HARD 2 $112,540,947 Wed, 7/4/90
9 DICK TRACY $103,738,726 Fri, 6/15/90
10 KINDERGARTEN COP $91,466,137 Fri, 12/21/90
Warner Bros.' The Dark Knight Rises has earned $311.4 million in North America in its first 13 days of release. By way of comparison, 2008's The Dark Knight had banked about $31.3 million more at this point and $393.7M by the end of its third weekend. The highly-praised drama has led the Mid-week derby with $8.16M on Monday, $8.77M on Tuesday and $7.33M on Wednesday. 2008's The Dark Knight had a 43 percent third weekend drop (taking in $42.66M) and The Dark Knight Rises is on track for a third weekend gross in the high $20 million/low $30 million range. IMAX has contributed strongly to the success of the film over $40 million in giant screen dollars since its North American debut and the film should have around $340 million in total revenue by Sunday night after 17 days of release.
Proving it's no wimp at the box office, Twentieth Century Fox's Diary of a Wimpy Kid franchise is looking toward maintaining its box office consistency with its third installment, Diary of A Wimpy Kid: Dog Days. 2010's Diary of a Wimpy Kid was a surprise success, taking the number two spot with $22.1 million in its debut and going on to earn $64 million in North America. The second installment, 2011's Diary of A Wimpy Kid: Rodrick Rules opened at number one with $23.7 million and went on to $52.7 million and like the first film was a March release. A likely debut in the high teens and perhaps the low 20s will await the gang this weekend in the more competitive summer release period.
Vying for that family audience is Twentieth Century Fox's own Ice Age: Continental Drift, which enters its fourth weekend after maintaining an impressive second place mid-week performance behind only The Dark Knight Rises as it continues to make a huge splash overseas and enters its fourth weekend with over $121 million in North America and a worldwide tally of over $635 million. In its fourth weekend, this 3-D family animated release should continue its winning ways despite new competition. A gross of just under $10 million this weekend will boost its fortunes over the $130 million mark in North America by Sunday night.
The Watch from Twentieth Century Fox, starring Ben Stiller, Vince Vaughn, and Jonah Hill, had a fairly modest debut of $12.7 million last weekend, but has held steady in third place in the mid-week box office race, where it has been neck-and-neck with Lionsgate's Step Up Revolution. With an $11.7 million debut last weekend, this latest in the Step Up series had a tough time in its debut, but will try for a spot in the Top 5 this weekend with around $6 million plus, as it competes in a box office "dance-off" with The Watch.
Universal's comedy smash Ted, Sony's The Amazing Spider-Man re-boot starring Andrew Garfield and Emma Stone and Disney's 3-D Pixar animated Brave will also continue to be a factor in this relatively slow period at the nation's theaters. Luckily Universal's The Bourne Legacy and Warner Bros.' The Campaign will lend their support next weekend as we head into the final few weeks of the summer season of 2012.