'Trance': You Liked 'Inception', Right? Rosario Dawson Is Doing It Now — TRAILER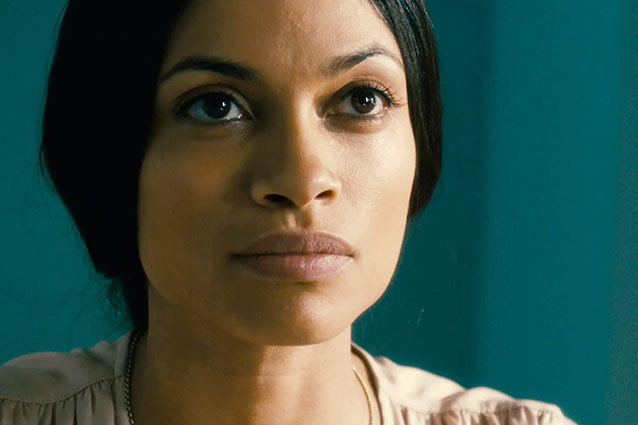 As much of a gift movies like Inception are to the cinephile, erupting in neverending discussions and countless interpretations, there's a problem that accompanies other high concept blockbusters. Inception and its breed stem from very simply, very relatable ideas, ones that are ripe for a number of different interpretations. But no matter how fertile a ground the "What if you could go into other people's minds?" hypothetical is, Inception will always have the monopoly on it, and all subsequent movies tackling the question will just be looked at as rip-offs. The latest film to brave these risky waters: Trance.
RELATED: Danny Boyle's 'Trance' Trailer: James McAvoy Blows Minds, Literally
Oscar-winner Danny Boyle delivers his own into-the-mind heist film in the new trailer for Trance, which stars Rosario Dawson as a hypnotist who appears to plant false memories in the head of James McAvoy as part of an elaborate ruse to swipe a priceless painting. And yes, we know, you can't help but scoff at the similarities to Inception (a movie so big that all imitators feel D.O.A.). But just because Trance is handling material that's already been "mastered," it doesn't mean that it isn't gearing up to give us some new, interesting ways of looking at the concept.
RELATED: Danny Boyle's Art Heist Film Trance Gets a Cool New Poster
With director Boyle at the wheel, we should feel optimistic. Add a few points if you're fans of Dawson and McAvoy (both adept performers). Check out the Trance trailer below, and don't be turned off by your devotion to Inception: this movie could very well be good, too! Even if it doesn't have… this.
Trance hits limited theaters Apr. 5.
Follow Michael Arbeiter on Twitter @MichaelArbeiter
[Photo Credit: Fox Searchlight]
---
You Might Also Like:


15 Oscar-Winning Nude Scenes


Young Jack Black Is Totally Unrecognizable