'Transformers 3' News and Spoilers Roundup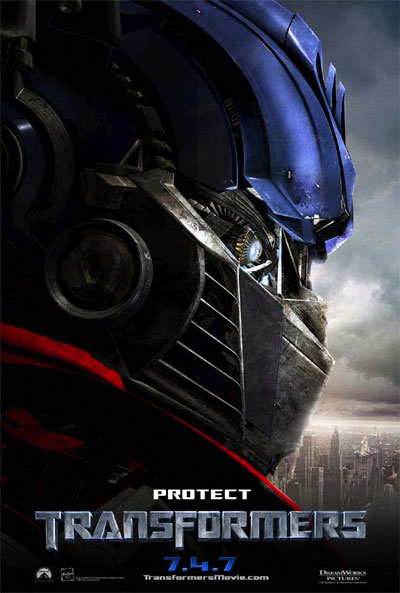 We've seen a pretty steady stream of news making its way off the set of Transformers 3 in the last two weeks as production has gotten underway, but all of that information can get overwhelming!  Here, we bring you the most important, most up-to-date gossip, as well as at least one more unnecessary photo of Rosie Huntington-Whiteley.
Transformers 3 will be in 3D:
Although Michael Bay previously dismissed 3D as "a gimmick," adding "the way I shoot is far too aggressive for 3D cameras," the director has reportedly had a change of heart… probably after noticing how Avatar (3D) and Alice in Wonderland (3D) grossed $2.7 billion and $1 billion respectively from higher ticket sales.
Plot details confirmed:
Bay will be filming a number of scenes in Washington D.C. for the third Transformers, which deals in part with the space race between the U.S. and the U.S.S.R. during the Cold War.  Apparently, the presence of giant alien robots had more to do with Sputnik and Buzz Aldrin than we originally thought.
Speaking of plot, Bay is adamant that the final chapter of the Transformers trilogy will have considerably more drama and less goofy humor than in the first two films.  "One thing we're getting rid of is what I call the 'dorky comedy,'" the director said recently.  "So the twins, the two bumbling, slang-spewing robots? They're basically gone." And while John Turturro will remain on-hand for comic relief, Bay says, "the movie is more of a mystery. It ties in what we know as history growing up as kids with what really happened. As a trilogy, it really ends. It could be rebooted again, but I think it has a really killer ending."  That killer ending will involve the film's confirmed villain, Shockwave, who will menace both Shia and audiences with his (its?) single robotic eye and laser-gun-equipped robo-arm.
Michael Bay and producer Lorenzo di Bonaventura apologize for Transformers: Revenge of the Fallen:
"We tried to do too many things in the second movie, which didn't give enough time in any one of them," Di Bonaventura said in a recent interview.  "We were constantly jumping to the next piece of information, the next place."
"I'll take some of the criticism," Bay added, even as he attempted to dodge the blame. "It was very hard to put [the sequel] together that quickly after the writers' strike [of 2007-2008].  …This one really builds to a final crescendo. It's not three multiple endings."
Bay's optimism appears to be validated by reports from insiders close to the director, who have confirmed that the script for T3 is significantly better than that of Transformers: Revenge of the Fallen.
And one last bit of "news" to leave you with something to think about:
Megan Fox's replacement, Victoria's Secret model Rosie Huntington-Whiteley, reportedly wore a white, transparent lingerie top and panties for her love scene audition with Shia LaBeouf.  At that point, Huntington-Whiteley already had the part, but Michael Bay wanted to make sure that she and LaBeouf "gelled."  Apparently they did indeed "gel."  Don't even think about it, LaBeouf!  Huntington-Whiteley already has a boyfriend, and his name is Jason Statham.  You don't mess with that guy.