'Transformers 3' Sparks Fourth-of-July Fireworks!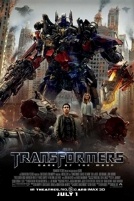 Setting a new 4th-of-July box office record, Michael Bay's Transformers: Dark of the Moon has set a blistering pace earning $181.125 million in N. America since its debut last Tuesday night at 9pm.  A new July 4th weekend record of $97.5 million for Friday through Sunday and $116.4 million for Friday through Monday (beating Spider-Man 2 and its $88.2M and $115.8M July 4th records), shows that this latest Transformers benefited from great word-of-mouth and audience excitement.  Fueled by a solid 60% 3-D revenue split and massive IMAX showings of nearly $14 million domestically, the film was a total winner for Paramount Pictures. Transformers 3 globally earned $379 million with $217 million from the international territories while IMAX broke their own global record on T3 with their first-ever $20 million plus opening as the film earned $22.5 million big screen bucks worldwide with a $13.7M/$8.75M split.
Disney/Pixar's Cars 2 roared into second place weekend with $26.2 million for 3-days and $32 million for the 4 day period.  The G-rated family-friendly film will cross the checkered flag on Monday night with over $120 million in North American revenue $207.5 million worldwide dollars.
Sony's R-rated comedy Bad Teacher from Sony took detention in 3rd place after a stronger-than-expected debut last weekend.  A 3-day take of $14.5 million and 4-day figure of $17.6 million is on the report card for this modestly budgeted comedy that will make a tidy profit for the studio.  Cameron Diaz, Justin Timberlake and Jason Segel star in the film that will cross the $60 million mark in North America by the end of 4th of July festivities on Monday.
Debuting in fourth place with $13 million for 3-days and $15.7 million for 4-days, Larry Crowne from Universal is a dramatic comedy starring Oscar winners Tom Hanks and Julia Roberts.  The film offered an alternative to the kid and robot-friendly fare that dominated the marketplace this holiday weekend drawing a decidedly more sophisticated older audience looking for fewer explosions and no talking automobiles.
Paramount's Super 8 enters its 4th weekend with a 3-day gross of $7.8 million and a 4-day figure of $9.5 million.  The film crossed the $100 million mark this past week and is now up to $110 million through Monday night.
The three-day portion of the weekend was "up" 5% vs. the comparable July 4th weekend last year, but the four day portion as led by the massive Twilight Saga: Eclipse in 2010 wound up "down" 5% as fueled by an incredibly strong Monday, July 5 of post-Fourth holiday movie-going.
In related news Disney's Pirates of the Caribbean: On Stranger Tides becomes only the eighth film in history to top the $1 billion mark in global box office with an astounding $1,008.9 million though Monday night making it the seventh highest grossing film globally of all-time.
Weekend Box-Office
Top Movies – For Fourth-of-July Weekend (4-Day Estimates)
    Movie     F-S-S-M Gross     Total to Date
1     Transformers: Dark of the Moon (PG13)     $116.4M     $181.1M
2     Cars 2 (G)     $32.1M     $123.0M
3     Bad Teacher (R)     $17.6M     $63.0M
4     Larry Crowne (PG13)     $15.7M     $15.7M
5     Super 8 (PG13)     $9.5M     $110.1M