'Transformers 3' Tops Box Office Again!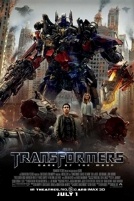 Last weekend, Michael Bay's Transformers: Dark of the Moon broke Fourth-of-July records, wowed audiences around the world to the tune of nearly $400 million and posted the best opening weekend of the year thus far.  This weekend was another winner for the sci-fi popcorn action flick with a $47 million gross against a modest 52% drop and north of $260 million in North America dollars.  Overseas the film earned $93 million this weekend with a $384 million international total to date and a whopping $645 million worldwide after just two weekends of release.  IMAX is also killing it for Transformers 3 with $4.7 million for the North American weekend and a total to date domestically of $21.5 million to date.
R-rated comedies have found much favor during the summer months with The Hangover Part II and Bridesmaids both banking lots of cash over the past couple of months.  It is fitting then that Warner Bros.' Horrible Bosses featuring the trio of Jason Bateman, Charlie Day and Jason Sudeikis lead the latest ensemble comedy to a solid debut this weekend with $28.1 million.  Jennifer Aniston in her best role in years steals every scene and will have people talking long after they leave the theater.
Kevin James brings the comedy to kids and their families with Sony's PG-rated kid friendly romp Zookeeper.  The unlikely story of zoo animals helping James in his quest for love captured a gross of $21 million this weekend. James surprised everyone in early 2009 with the unexpected success of Paul Blart: Mall Cop thus showing his viability as a comedy star.
Zooming into Fourth place in its third weekend of release with $15.2 million is Disney/Pixar's Cars 2 which roared to first place in its debut and has now earned $270.4 million in global winnings through Sunday night.  The 3-D animated film has propelled the Pixar brand to over $6.9 billion in worldwide theatrical revenue to date.
Sony's R-rated comedy Bad Teacher from Sony entering its third weekend has shown tremendous "legs" with $9 million against a mere 38% drop.  Cameron Diaz starring as a decidedly unconventional educator is approaching the $80 million mark by the end of the weekend and has now earned over $100 million at the worldwide box office.
The Summer Movie Season is not performing as well as many had hoped with June and early July finding us lagging behind last year's revenues and attendance.  Four of the past five weekends have been "down" vs. the comparable period a year ago and thus summer revenues are down 1.43% while attendance sits at 2.90% below last year's numbers.  This is somewhat shocking considering that last summer was the lowest attended in over a decade.  Good news is that Warner Bros.' Harry Potter 7, Part 2 is on the way with massive and perhaps record-breaking revenues which will give us the shot in the arm we need to pull ahead of last year.
Weekend Box-Office
Top Movies – For Weekend of July 8, 2011 (estimates)
    Movie     Weekend Gross     Total to Date
1     Transformers: Dark of the Moon (PG13)     $47.025M     $261.0M
2     Horrible Bosses (R)     $28.1M     $28.1M
3     Zookeeper (PG)     $21.0M     $21.0M
4     Cars 2 (G)     $15.2M     $148.8M
5     Bad Teacher (R)     $9.0M     $78.7M