'Transformers 4' Casts an Evil Kelsey Grammer, But Whatever Happened to the Nice Kelsey Grammer?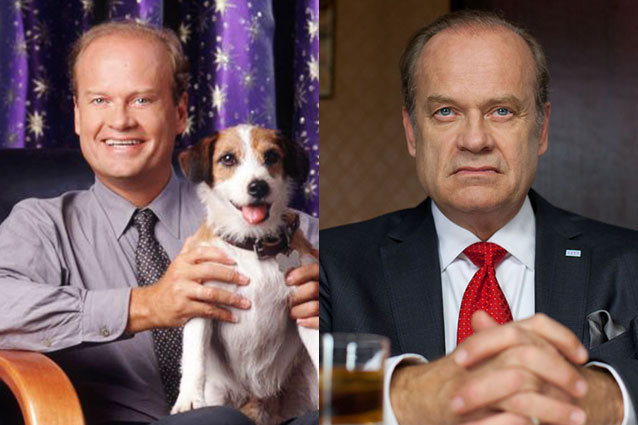 Sure, he was pompous, a little edgy, never one to stray from an argument, but Frasier Crane was moreover a nice guy. He was a compassionate therapist, a devoted brother and son, and a faithful patron to his regular tavern. Kelsey Grammer's verbose character sustained failed engagements and marriages, a distant son, and hordes of coworkers who often seemed to be working against him… all with a smile (well, sort of a sarcastic half-grin) and an optimistic heart. Frasier was good people. The same, however, cannot be said for the vast majority of the characters Grammer has played since the conclusion of his eponymous NBC series. The latest in a long line of titles to cast the actor in a meaner role is Transformers 4, which is now handing its central villain to Grammer.
While Grammer will always be best known as the good-hearted, big-headed Seattle-born shrink, his "type" outside of Frasier Crane seems to be exclusively baddies. Just look at everything he's done since Frasier went off the air: on television, he has played the nefarious Chicago Mayor Tom Kane in the King Lear reimagining Boss, in addition to all-purpose jagweeds Ebenezer Scrooge (in a Christmas Carol TV movie), the Angel of Death (on Medium), and Sideshow Bob (The Simpsons, of course).
On the big screen, Grammer has exemplified the same amount of scorn, with the X-Men supervillain Beast, the duplicitous President Boone in Swing Vote, and otherwise seedy and reproachable characters in Middle Men, An American Carol, and Crazy on the Outside.
So why, with two decades of kind-hearted doctoring under his belt, is Grammer so regularly approached as a villain? Is it the actor's personal life (his divorce and remarriage in 2011 were subjects of the public eye's unkempt scorn)? His politics (Grammer vows that his being a republican is what cost him his most recent Emmy)? Or perhaps the seed that was planted in Toy Story 2, when Grammer played the focal baddie Stinky Pete? Without that little plastic prospector, Grammer might never have worked his way up to a plot to take down Butterfly. But hopefully, that embittered plaything won't guide the actor's career forever. We want nice Grammer back.
Follow Michael Arbeiter on Twitter @MichaelArbeiter
More:
'Transformers 4' to Shoot Partially in China
IMAX Chairman on What to Expect from 'Transformers 4'
Michael Bay Apologizes for Apologizing for 'Armageddon'
---
From Our Partners:


Eva Longoria Bikinis on Spring Break (Celebuzz)


33 Child Stars: Where Are They Now? (Celebuzz)