New Title and Poster for 'Transformers 4' Prepares Us for Dinobots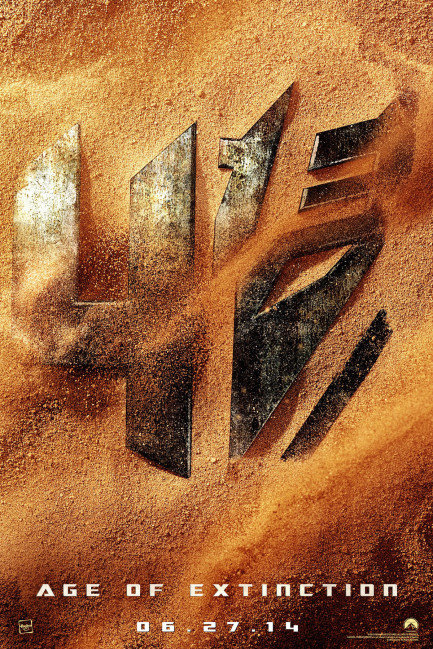 Paramount Pictures
If Pacific Rim's paltry box office sum is any indication, Michael Bay and his Transformers series are still the reigning lords of the giant robot movie. And if Bay's brand of crunching metal is indeed your thing, then get ready to get excited: a new sand-dusted poster for the fourth film in the series has just been released, and it comes straddled with the film's official subtitle: Age of Extinction.
The new subtitle gives us a whole mess of clues as to what this new film will be about. The most widely circulated rumor is the introduction of the much loved Dinobots, robots that can change into dinosaurs. This poster certainly lends credence to that speculation. Naturally, the word "extinction" fits right into the dinosaur theme, and the sand swirling around in the above image conjures up some ancient connotations (like, say, prehistoric robots). If the clues featured on the poster aren't enough, Transformers producer Lorenzo di Bonaventura has all but confirmed the presence of Dinobots in the new film during an interview with Beijing News, via Empire.
"I can not disclose the specifics, but you can be sure that the arrival of the Dinobots will give the audience a lot to be excited about. The world's coolest, most exciting cars will appear in the film, including Chinese vehicles, so whether you are a car enthusiast or not, it will be a feast for the eyes."
Along with an all-new cast featuring Mark Wahlberg, Nicola Peltz, and Kelsey Grammer, The inclusion of Dinobots will give Transformers fans something to look forward to next summer.
More:
New 'Transformers 4' Pics Give Optimus Prime a New Look
'Pacific Rim' and the Evolution of the Monster Movie
Mark Wahlberg Stars in 'Transformers 4'
---
From Our Partners:


A Complete History Of Twerking (1993-2013) (Vh1)


15 Stars Share Secrets of their Sex Lives (Celebuzz)