TriBeca 2011: Abigail Breslin is All Grown Up in 'Janie Jones'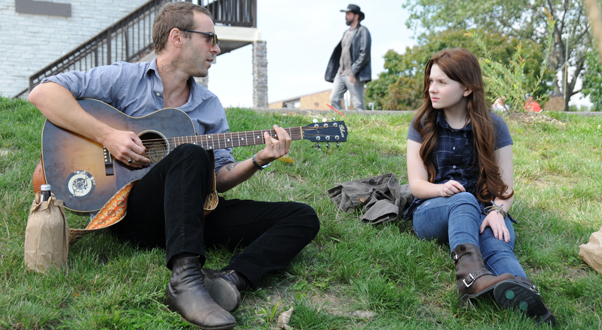 We first met Abigail Breslin when she charmed us as the growling little girl in Little Miss Sunshine, but after that she continued to play the little girl to the grown-up leads. Occasionally, she takes the lead as a kid adventurer, but for the most part, we've yet to see her truly lead her own film as a young woman. In Janie Jones, we see Breslin take on a more demanding part and well, she rocks it.
Janie Jones, like the Clash-inspired title suggests, is a rock story, but it's a bit more than that. Failing rock star Ethan Brand (Alessandro Nivola) fooled around with a few groupies in the height of his fame, but one (Elisabeth Shue) went away with a lasting parting gift: a daughter (Janie). Like many a grown up groupie, the lifestyle left her with some questionable habits and when she decides she needs to put herself into rehab, she leaves Janie with Ethan and he reluctantly brings her along on his tour. Of course this is no place for a 13 year-old, then again neither is living in a house with a drug addict.
Through a series of forced circumstances including the implosion of a band that's hanging by a thread when we enter the picture, Ethan is forced into fatherhood and Nivola delivers a solid performance as the reluctant father. However, like her character, Breslin is the real star here. In many respects, she's more of an adult than either of her parents and when she's thrown into the chaos of the road, she really shows it. Breslin also does sort of double duty for the role — she plays guitar and sings original songs meant to be written by her young character. The lyrics ring of hard times that a young kid shouldn't know anything about, and while I doubt Breslin will be selling songs on iTunes any time soon, she pulls off the musically-inclined young lady.
Sure, the film employs an element of childhood fantasy — I doubt many children of groupiedom find out that their father is only a haughty, delusional prick on the surface, but that he can really come around and be a father — but Breslin brings it home. (Though, to be fair, the screenplay was inspired by writer and director David M. Rosenthal's own life, which was much less musically-inclined and much less dramatic.) She's infinitely likable and she's got a coy element about her. While Janie is very much a 13 year old girl, she's a wiley one. She knows how to use her age to her advantage and ends up using it a few times to save her dad's ass as he progresses on his downward spiral. The role really echoes Breslin's trajectory as an actress — I know this is a weird claim, so stick with me for a minute. No, she wasn't raised by a druggie or taken on the road with a touring rock band at a young age, but she was thrown into a very adult world at a young age.
At just 10 years old, she nabbed a starring role in Little Miss Sunshine, which despite the title, was anything but a bunch of sunshine and roses. Sure, she's played the kid alongside the main plots in most flicks, but she almost always tends to be the little girl who's just a little more grown up that we'd expect. She's one of those kids who becomes very adult from a young age because though she's probably having fun acting, she ended up with a full time job before she was even old enough to drive. She's still a kid, but she's got a little savvy from being in that adult world. Janie also gains savvy from the adult nature of her world. She almost parents her mother as we see when the two stop at a gas station before meeting Ethan and Janie reprimands her mom for switching to a sluttier skirt and for still toting drugs around in her purse. We see it the first time she overhears Ethan lamenting that he's got to take her with him; instead of crying or whining, she grabs her guitar and expresses herself in a productive, mature way.
The film is by no means perfect, but it's sweet and despite a few outlandish twists and turns, feels very organic and genuine. It takes the feel of Almost Famous and adds some seriousness; there are no lofty dreams of being Rolling Stone's star journalist or marrying a rock star here. Instead, we've got the simple goal of wanting to just make it (in this case, making it means the pair getting to South by Southwest in Austin, Texas). It's a great vehicle for Breslin to make the switch from simple kid star to a bona fide actress and she uses it well.