TriBeca 2011: Take 'The Trip' With Steve Coogan & Rob Brydon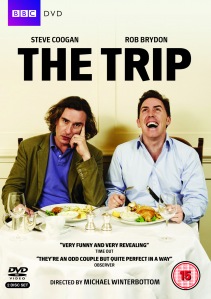 Road trip movies face the very daunting challenge of turning one of the most rewarding experiences anyone can have in an automobile (but also one of the most boring) into an engaging story. The metaphor is easily identifiable and interesting: someone starts out on a journey and by the time they reach their destination or return home, the individual has changed in profound ways. However, one can't deny that those long stretches of time in between point A and B can be unbearably stale.
The Trip suffers and revels in this. Cobbled together from a television show of the same name, the film, directed by Michael Winterbottom (The Killer Inside Me), follows real-life British comedians Steve Coogan and Rob Brydon as fictionalized versions of themselves on a road trip through Northern England. I imagine they took the highlights of the show and stitched them together to make this feature and you can see the similarities when they start riffing. Mostly improvised, the comedic bits are fantastic and a fine example of British humor. But then they go out into the countryside and there are long shots of the landscapes and rolling hills. Beautiful country, don't get me wrong, but I kept waiting for the funny stuff to come around again. Then things start getting real when Coogan becomes self-conscious about his career not being where he wanted it to be and his little flings with the wait staff he meets along the way. With the improvised dialogue and the fact that they're playing themselves, it feels like you're invading their actual road trip. The fights seem just as real as the laughs they bring each other to.
But hey, that's exactly like a real road trip. You learn a lot more than you ever thought you would about your traveling partner, and when it's all said and done all you can remember are the highlights. The other boring stuff slips out of mind, or at least becomes easy to overlook. A good trip, if I do say so myself.