TriBeca Film Festival Goes West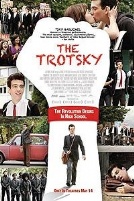 Source: The Wrap
Ever get tired of reading about how good a film festival is while you sit at home, a thousand miles away wondering what it would be like to be there? Tribeca Film, the distribution arm of the Tribeca Film Festival, will take a bit of the festival on the road this summer, bringing 10 of its films to Los Angeles for a two-week repertory run.
The Wrap reports that select films that made waves at the 2010 TriBeca Film Festival will screen for two weeks at Laemmle's Sunset 5 theaters in West Hollywood. Five of them will screen from June 25 to July 1, and the other five from July 2 to July 8. The films set to screen are: Climate of Change, The Infidel, The Immaculate Conception of Little Dizzle, Metropia, My Last Five Girlfriends, Road, Movie, sex & drugs & rock & roll, The Swimsuit Issue, The Wild and Wonderful Whites of West Virginia and The Trotsky (you can read our review of the Jay Baruchel comedy here and check out reviews of other films that premiered at the festival here).
Having attended and covered the TriBeca for the last few years, I can say that it's incredibly refreshing to see it getting this kind of expansion. Generally speaking, Cannes, Sundance and Toronto get most of the notoriety in the realm of film festivals, so I'm happy that West Coasters will get a chance to see the quality films that come out of the annual Spring event in lower Manhattan.