2013 Tribeca Film Festival Includes a Paul Rudd Buddy Comedy & 'Star Wars' Remake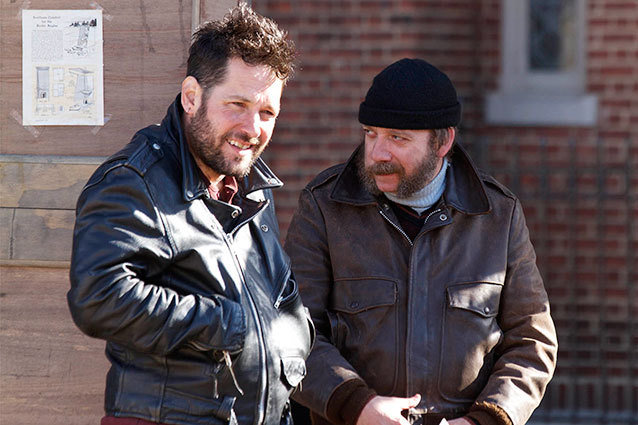 The Tribeca Film Festival has announced the Spotlight Lineup of films for its 11th annual fete, taking place April 17-28 in Manhattan. It's an impressive roster of much of the indie world's greatest talent, including a new buddy comedy from the director of Junebug starring Paul Giamatti and Paul Rudd, Richard Linklater's highly anticipated follow-up to Before Sunset, a few notable documentaries, and an experimental take on Star Wars courtesy of hundreds of diehard fans. Here are the ones that caught our eye:
NARRATIVE FEATURES
Almost Christmas—Paul Giamatti and Paul Rudd are two Quebecois ne'er-do-wells who come up with a get rich quick scheme to sell Christmas trees in New York City. The only proble is that Rudd's character has just stolen Giamatti's wife. It's director Phil Morrison's first feature since his elegant, Ozu-esque Junebug earned Oscar love in 2006.
RELATED: Paul Rudd and 16 Other Stars Who Don't Age
Before Midnight—Richard Linklater is on the verge of turning the ongoing saga of Jesse (Ethan Hawke) and Celine (Julie Delpy) into a narrative version of the Up Series. Nine years elapsed between 1995's Before Sunrise and older, wiser follow-up 2004 Before Sunset. Now, nine years have passed again, and the third installment, Before Midnight, finds Jesse and Celine at another crossroads in their eternal "ships that pass in the night" relationship. This time the beautiful European setting where they exchange loving glances and probing conversation is Greece.
Byzantium—Director Neil Jordan of Interview With the Vampire fame is training his lens on immortal bloodsuckers once again. Gemma Arterton and Saoirse Ronan play a mother and daughter on the run for possibly supernatural reasons.
Prince Avalanche—After high-profile bro-comedy duds Your Highness and The Sitter, David Gordon Green goes back to his subtle indie roots. Reminiscent of the quiet lyricism of George Washington, Prince Avalanche stars Emile Hirsch and, once again, Paul Rudd as road workers repainting a highway in a fire-damaged forest during the summer of 1988.
Adult World—Emma Roberts plays an aspiring poet who has to take a job at a local sex shop, Adult World, in order to make ends meet. The on thing keeping her going? A mentorship with professionally eccentric writer John Cusack.
DOCUMENTARIES
Elaine Stritch: Shoot Me—At 87, the Broadway legend is as irascible as ever. Now Tina Fey, Nathan Lane, Hal Prince and more weigh in on what Stritch's career has meant to them. We'll drink to that.
Gasland Part II—The Oscar nominated 2011 documentary about hydraulic fracking gets a wider focus in this follow-up, showing how the energy extraction technique can cause earthquakes and even be used as part of anti-terror psychological operations tactics.
Gore Vidal: The United States of Amnesia—Few Americans, period, have ever had a more interesting life than Gore Vidal. The famously revisionist—infamously prickly—author and critic was good friends with Amelia Earhart as a kid, sparred on-air with William F. Buckley, and wrote the book (Lincoln) that convinced Michele Bachmann to leave the Democratic party for the Republicans. The late Christopher Hitchens and more remember him as the quintessential man of letters.
AND A BONUS EXPERIMENTAL FILM
Star Wars Uncut—Project curator Casey Pugh put out a call for hundreds of Star Wars fans and amateur filmmakers to assemble 15-second snippets of Star Wars: Episode IV—A New Hope using mixed-media alternatives: animation, stop-motion, live-action reenactments, which when put together recreate George Lucas' film in its entirety, just very, very differently.
Follow Christian Blauvelt on Twitter @Ctblauvelt
[Photo Credit: Tribeca Film Festival] 
---
From Our Partners:


40 Most Revealing See-Through Red Carpet Looks (Vh1)


15 Stars Share Secrets of their Sex Lives (Celebuzz)