'Tron' Set to Build a Box Office Legacy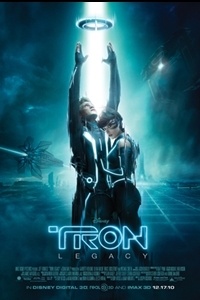 A potentially strong weekend in store as Tron grabs the fan boys, Yogi takes on the families, fight fans go for The Fighter and the date crowd asks How Do You Know and all this while a Black Swan makes her nationwide debut.
Disney's Tron: Legacy has a lot going for it including a great release date, fan boy appeal and of course the IMAX and 3-D components.  That said a number one debut is assured for this long-awaited follow up to the 1982 original film which opened with $4.8 in 1,091 theaters on July 9.  The highest December debut remains 2007's I Am Legend with $77.2 million followed closely by 2009's Avatar (which over the same weekend exactly one year ago) with $77.02 million.  Statistically speaking this would place Tron: Legacy right in the mix of the Top 10 December debuts of all-time with a likely $55 to $60 million for the weekend. 
See more about December debuts at the box office by clicking on this link.
Bears and boxers will spar for second and third place as the weekend pic-a-nic basket is filled by a smarter-than-the-average-bear named Yogi.  Voiced by childhood fan Dan Aykroyd, Warner Bros. gives the Hanna-Barbera classic the big-screen, 3-D treatment and a chance at a gross in the low $20 million range with kids and families expected to support Yogi with great playability throughout the holiday season.
After its limited four theater debut last weekend, Paramount's The Fighter was just getting warmed up for an expected solid debut in the $15 million range as it expands to approximately 2,200 locations.  Mark Wahlberg and Christian Bale star along with Melissa Leo in this incredible true story of a pair of pugilistic brothers who battle with the effects of addiction, family infighting and the struggle for redemption.  A shoe-in for multiple Oscar nominations, The Fighter is the kind of solid crowd-pleasing film that could become a breakout hit in the weeks to come.
James L. Brooks directs the number four film in the line-up How Do You Know starring Reese Witherspoon, Owen Wilson, Paul Rudd and Jack Nicholson.   With an all-star cast, the director of Terms of Endearment, Broadcast News and As Good as it Gets, certainly has a large talent pool from which to draw and at the same time draw the date crowd to the tune of around $12 million.
Fifth place should go to Fox's The Chronicles of Narnia: Voyage of the Dawn Treader which opened last weekend in first place but now faces huge competition and will likely earn in the low teens and cross the $40 million mark by the end of the weekend in domestic revenue as it surpasses the $100 million mark in the global earnings.
Another Oscar contender goes into wider release this weekend as Fox Searchlight's twisted and audacious Black Swan will waltz into 950 theaters.  Given Natalie Portman's bravura performance, director Darren Aronofksy incredible cinematic vision and the extremely strong buzz that has surrounded this movie, a shot of landing in the $8 million to $10 million range is not that far-fetched considering the film was number six last weekend in just 90 theaters.
With just two more box office weeks left, a $10 billion plus year is assured.  However, the potential for beating last year's record $10.6 billion is quickly dwindling as it will be tough for this year's crop of films to measure up to last year's comparable period which generated nearly $800 million in revenue.  Notably, one year ago Avatar debuted and led a year end charge that included the box office hits The Blind Side, Alvin and the Chipmunks II, and Sherlock Holmes.