'Tron' Tops Pre-Christmas Box Office!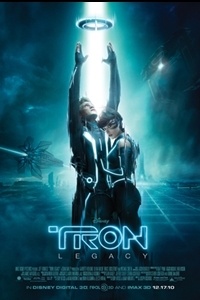 Disney's Tron: Legacy had a lot going for it including a great release date and of course the IMAX and 3-D components.  That said a number one debut was assured for this long-awaited follow up to the original film which opened with $4.8 in 1,091 theaters on July 9, 1982.  This re-boot of the original earned $43.6 million this weekend with $10.3 million of fully one-quarter of the gross coming from 234 IMAX theatres.  The film should have solid playability through the holidays particularly in the giant screen format and earned $66.6 million this weekend worldwide.
Second place goes to that "smarter than the average bear" named Yogi with $16.7 million in the pic-a-nic basket in 3,515 theatres.  Warner Bros. gave Yogi Bear the 3-D big screen treatment and families a chance for a fun time at the movie theater.  The PG-rated animated film stars Dan Aykroyd (a longtime fan of the original Yogi) and Justin Timberlake.
Third place goes to Fox's The Chronicles of Narnia: Voyage of the Dawn Treader which dropped a modest 48% earning $12.4 million in its second weekend of release.  The film opened last weekend in first place and despite huge competition managed a respectable sophomore session performance as it crossed the $40 million mark in domestic revenue as it surpasses the $100 million mark in the global earnings.
After its limited four theater debut last weekend, Paramount's The Fighter was just getting warmed up for a solid first wide release debut with $12.2 million range as it expanded to 2,503 locations.  Mark Wahlberg and Christian Bale star along with Melissa Leo in this incredible true story of a pair of pugilistic brothers who battle with the effects of addiction, family infighting and the struggle for redemption.  A shoe-in for multiple Oscar nominations, The Fighter is the kind of solid crowd-pleasing film that could become a breakout hit in the weeks to come.
Sony's The Tourist starring Johnny Depp and Angelina Jolie had a solid second weekend hold of 47% and managed to grab fifth place with $8.7 million.  The film garnered multiple Golden Globe nominations and this may have helped the film which is now up to nearly $31 million in domestic revenue.
Other notable expansions and openers included yet another Oscar contender that expanded into wider release this weekend as Fox Searchlight's twisted and audacious Black Swan waltzed into 959 theaters (up 869 from last weekend) to the tune of $8.67 million.  Given Natalie Portman's bravura performance, director Darren Aronofksy incredible cinematic vision and the extremely strong buzz that has surrounded this movie, this strong performance should be no surprise.
Opening in seventh place with $7.6 million is James L. Brooks' How Do You Know starring Reese Witherspoon, Owen Wilson, Paul Rudd and Jack Nicholson.   
2010 year-to-date revenues crossed the $10 billion mark this weekend and this is only the second time in history that this mark has been surpassed in domestic revenue.  With only twelve days left in the box office year it is possible that we may wind up with record revenues beating last year's $10.6 billion.  However, this record will be bolstered by higher ticket prices and attendance will likely wind up 4% down from 2009's full year total.
Weekend Box Office
Top 10 Movies – For Weekend of December 17, 2010 – Estimates
          Movie                Weekend            Total
1     Tron: Legacy (PG)     $43.6 M     $43.6 M
2     Yogi Bear (PG)     $16.7 M     $16.7 M
3     The Chronicles of Narnia: The Voyage of the Dawn Treader (PG)     $12.4 M     $42.8 M
4     The Fighter (R)     $12.2 M     $12.6 M
5     The Tourist (PG-13)     $8.7 M     $30.8 M
6     Tangled (PG)     $8.7 M     $127.8 M
7     Black Swan (R)     $8.3 M     $15.7 M
8     How Do You Know (PG-13)     $7.6 M     $7.6 M
9     Harry Potter and the Deathly Hallows, Part 1 (PG-13)     $4.8 M     $265.5 M
10     Unstoppable (PG-13)     $1.8 M     $77.3 M