'True Grit' Claims First Place Bounty at Box Office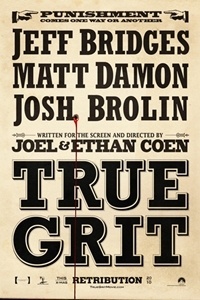 'True Grit' claims first place bounty at the box office this weekend.
Paramount's True Grit has been in hot pursuit of a first place finish at the box-office and it finally claimed its reward this weekend.  After a mere 2% drop last weekend and continued strong word-of-mouth the Coen Brothers' latest opus has been enjoying an enviable box office trajectory that will create a rare third weekend ascendancy to the top of the chart.  A $15 million weekend take against a 39% weekend over weekend percentage drop has given the Coen Brothers their first $100 million plus grossing film as they now set their sights on the Oscar race.
The latest installment in the successful comedy franchise that started 10 years ago, Universal's Little Fockers is one of the few blockbuster-style success stories of the 2010 holiday box office season.  The film held on to the number one spot for two consecutive weeks, crossed $100 million in just 12 days of release and virtually is assured to inspire another Focker sequel.  At number two this weekend the film earned $13.8 million and will cross the $120 million mark by the end of the weekend.
Third place goes to the Nicolas Cage fantasy adventure Season of the Witch from Relativity Media with a stronger-than-expected $10.7 million in its debut.  A solid marketing campaign coupled with being the only brand new wide release gave this one a leg up this weekend.
Check out our exclusive 'Season of the Witch' themed comic strip from Francesco Marciuliano.  Francesco writes the internationally-syndicated comic strip "Sally Forth" and the webcomic "Medium Large." He was the head writer for the PBS series "SeeMore's Playhouse," for which one of his episodes won two 2007 Daytime Emmys. He currently writes for the Onion News Network.

Tron: Legacy from Disney wound up in the fourth spot with $9.8 million and a total cumulative of $147.9 million.  With the 3-D and IMAX components continuing to enhance the revenue generating potential for the sci-fi re-boot, Tron has benefitted from providing a summer-style movie-going experience during the winter season.
In the fifth spot on its way to a $100 million plus gross is the dance macabre that is Black Swan from Fox Searchlight with $8.35 million against a 2% tiny dancer of a sixth weekend drop.  An impressive $61.5 million in domestic revenue proves that even a challenging and unique film can find favor with mainstream audiences, not to mention Natalie Portman's bravura performance.
Other films are worthy of note outside of the Top Five as the Oscar nominations on January 25 grow closer.  Among these are Weinstein Co.'s The King's Speech and Blue Valentine and Fox Searchlight's 127 Hours which will continue to draw intrigued audiences to the multi-plex looking for a satisfying and sometimes challenging movie-going experience.
Weekend Box Office
Top 10 Movies – For Weekend of January 7, 2011 – Estimates
         Movie                 Weekend             Total
1     True Grit (PG-13)     $15.0 M     $110.4 M
2     Little Fockers (PG-13)     $13.8 M     $124.0 M
3     Season of the Witch (PG-13)     $10.7 M     $10.7 M
4     Tron: Legacy (PG)     $9.8 M     $147.9 M
5     Black Swan (R)     $8.4 M     $61.5 M
6     Country Strong (PG-13)     $7.3 M     $7.4 M
7     The Fighter (R)     $7.0 M     $57.9 M
8     The King's Speech (R)     $6.8 M     $33.3 M
9     Yogi Bear (PG)     $6.8 M     $75.6 M
10    Tangled (PG)     $5.2 M     $175.9 M