'True Story' Casts Felicity Jones to Date Jonah Hill While James Franco Kills People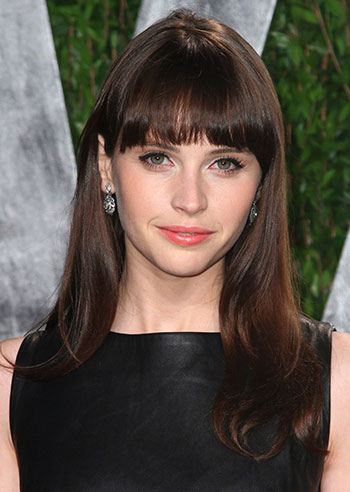 Felicity Jones seems to be vying for the auspicious title of Most British Young Actress in the industry. The 29-year-old starlet has made colleagues of Daniel Craig and Helen Mirren, and has headlined titles like Chalet Girl, Albatross, and Hysteria (that last one is French, but to many Americans, French is just "extra British"). But the latest news on the Like Crazy star has teaming with two young men who pride themselves as mainstays in our country's lexicon: Deadline reports that Jones will be uniting with Jonah Hill and James Franco for the developing drama True Story.
RELATED: 'Spring Breakers' Trailer: James Franco for Best Supporting Actor 2014?
Appropriately titled as it is, in fact, the actual account of disgraced New York Times Magazine journalist Michael Finkel (based on the writer's autobiographical True Story: Murder, Memoir, Mea Culpa), the film will star Hill in the lead role with Jones playing his longtime girlfriend. In 2002, Finkel was the victim of identity theft. The culprit: a Mexico-based murderer, Christian Longo (Franco in this film). The adventure to follow: Finkel's harried pursuit of Longo in an effort to clear his damaged reputation. Think the new Jason Bateman/Melissa McCarthy movie Identity Thief, except with… actually, no, it sounds pretty much exactly the same.
Jonah Hill Slams CNN Anchor in Bizarre Twitter Catfight
In addition to this drama, Jones will appear in The Amazing Spider-Man 2, earning her a bit of common ground with Franco, Peter Parker's pal-turned-foe Harry Osborne in Sam Raimi's trilogy. Rupert Goold is set to make his feature debut as the director of True Story.
[Photo Credit: WENN]
---
You Might Also Like:

Biden? Ford? Surprisingly Hot Young Pics of Politicians

Who Wore This Crazy Hat?

Stars Who Changed Their Look After Love