Try Not to Melt Over Matt Damon in the 'We Bought a Zoo' Trailer
If you're one of those people who find themselves crying during sentimental car commercials, I'm warning you: grab a few tissues before taking a peek at the first trailer for Matt Damon's new movie We Bought a Zoo. It's mushy. Good mushy, but mushy.
The story centers on Damon's Benjamin Mee, who, fed up with the quibbles of his life, quits his job Jerry Maguire-style and purchases a rundown zoo—complete with lions tigers and a adorable caretaker played by Scarlett Johansson. Of course, people think he's crazy (specifically Thomas Haden Church), but that's how movies work: start unfulfilled, add a this-can't-possibly-be-true-OH-YES-IT-CAN twist and come out on top in the end. When done right, these by-the-books, uplifting tales can be quite powerful. With Matt Damon in the driver's seat, there's little reason to doubt that that will be the case.
Coincidentally, he movie's directed by Jerry Maguire writer/director Cameron Crowe, which ensures that scenes of Damon shoveling monkey poo will be set to some classic rock tunes (see: Almost Famous for evidence of great soundtracking, not shoveling monkey poo). The movie hits theaters just in time for Christmas, where Damon is guaranteed to promptly board the award season train.
Watch the trailer in HD on Apple.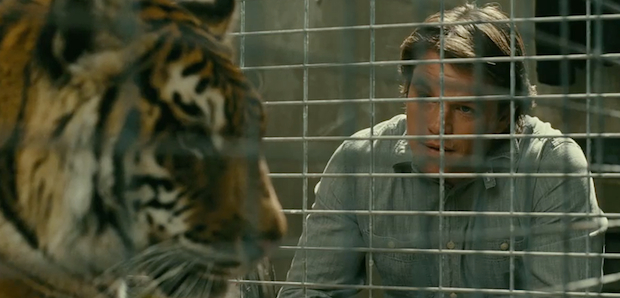 You can contact Matt Patches directly on Twitter @misterpatches and remember to follow@Hollywood_com!