'Turbo': Ryan Reynolds Tackles the Classic Snail Movie Genre — TRAILER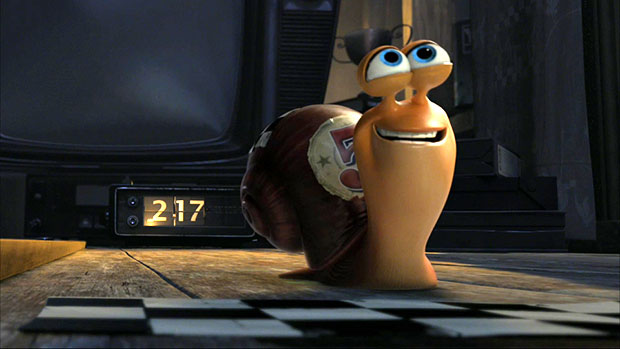 It's funny to think back on the early days of Ryan Reynolds, when he was just the guy who'd pop up for brief parts in movies like Dick and Harold & Kumar, and the odd episode of Scrubs. Now, Reynolds is a bona fide headliner, starring in wacky comedies, romantic films, and superhero movies alike. But in his latest endeavor, Reynolds will test the waters of one genre that really defines an actor as a captain of the industry: snail movies. Below is the first trailer for the animated movie Turbo, which tacks Reynolds' signature fast-talking, smarmy dialogue to a small, sweet-natured mollusk who dreams of being a high-speed racer.
In the classic underdog framework that does wonders with children's movies, we see the titular Turbo embrace his passions in the new trailer below. He will not be weighed down by his bulky shell, sticky stomach, and lack of limbs. Turbo lives to go fast. And he'll stop at nothing to make this dream come true, no matter how long it takes him, which will undoubtedly be quite a while. The dude takes 20 minutes just to crawl the length of a ruler.
Check out the trailer below. Turbo hits theaters in the summer of 2013.
[Photo Credit: 20th Century Fox]
More:
'The Heat' Red Band Trailer: Melissa McCarthy Goes Nuts While Things Explode
New 'The Great Gatsby' Trailer Reveals Not All that Glitters is Gold — TRAILER
Mark Wahlberg and The Rock Get Jacked in 'Pain & Gain' Trailer

'The Hobbit' Cast: A Who's Who New Character Guide (Moviefone)

'Les Miserables' Unscripted: Hugh Jackman, Anne Hathaway On Singing And Being Modest