Twilight about to eclipse 'New Moon!'
Another box office milestone in the "Twilight" saga is about to howl at the moon as Summit Entertainment's "The Twilight Saga: Eclipse" prepares to suck the life out of its predecessor's revenue generating superiority.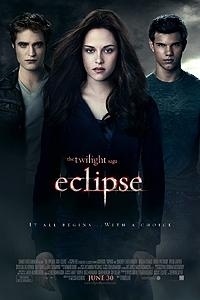 $296,623,634 is the total final domestic box office for "New Moon."  Through Tuesday, August 17 its successor, "The Twilight Saga: Eclipse" has a running total of $296,268,343 – a difference of $355,291.  Here is the breakdown: earlier this week "Eclipse" earned $214,712 on Monday, August 16 and $211,187 on Tuesday, August 17. 
If we conservatively put Wednesday's gross at $200,000 and another $200,000 on Thursday, the film will surpass its box office brethren this Thursday.  This is no small feat considering that "Eclipse" is the third film in the series, opened in the much more competitive summer movie season (the first two films opened in late November) and had a first weekend gross ($64.8 million) that was smaller than "New Moon's" first day!
Clearly "New Moon" was no slouch at the box office when it debuted in late November of 2009 and it still holds the distinction of generating biggest single-day gross in history with $72.7 million, the third biggest weekend opening ever with $142.8 million and had the biggest opening weekend of any film released last year.
And even though these two films share much of the same cinematic DNA, their box office trajectory could not be more different.  Notably, "New Moon's" theatrical run was super front loaded with a final domestic total that was just 2 times its opening weekend gross of $142,839,137 whereas "Eclipse's" running total will be 4.5 times its $64.8 million weekend debut.  
The three main stars of the "Twilight" saga, Robert Pattinson, Kristen Stewart and Taylor Lautner have all been richly rewarded for their role in all of this success (a $25 million payday awaits each for "Breaking Dawn") and rightly so; this is probably one of the few instances where the stars are just as essential to the film's success as the concept and are clearly worth their collective weight in box office gold.  
For more on "Twilight" read my story from last June entitled The Twilight Saga is set for a total eclipse of the box office excerpted in part below:
"The Twilight Saga" has already established itself as one of the most successful movie franchises in box-office history and when the film opens on Wednesday, June 30, that reputation should be further solidified with huge lines of fans, press reports of fan fever, strong reviews and mind-blowing box-office numbers.  All that and then we have "The Twilight Saga: Breaking Dawn" to look forward to on November 18, 2011.