'Twilight: Breaking Dawn – Part 2′: Kristen Stewart on Bella as a Feminist Role Model

Let's be real, here — love her or hate her, Kristen Stewart has endured her fair share of vitriol from feminists, fan-girls, and fidelity-loving press alike since she first took to the screen as the lovestruck Bella Swan in 2008. So when Hollywood.com sat down with her to discuss Breaking Dawn – Part 2, we were determined to give Stewart a chance to fight back: How does she see Bella as a positive female role model?
To say we were impressed with the actress' intelligence and candor is an understatement. She provided thought-provoking answers to all of our questions, and, well, made us wonder why we were so focused on them in the first place. Of course, we also had to ask about Breaking Dawn 2's more, ahem, ferocious sex scene, so be sure to stay tuned for her thoughts on that as well.
In case you were unaware, Twilight: Breaking Dawn – Part 2 hits theaters this Friday, Nov. 16. Check out the video below, and let us know your thoughts in the comments!
Follow Shaunna on Twitter @HWShaunna
[Photo Credit: Summit Entertainment]
MORE:
New 'Twilight: Breaking Dawn 2′ Clip: Kristen Stewart Can't Stop Jumping, Kissing
Final 'The Twilight Saga: Breaking Dawn – Part 2′ Poster Is Immortal
Comic-Con 2012: 'Breaking Dawn – Part 2′ Footage — The First 7 Minutes
From Our Partners: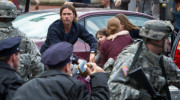 Brad Pitt Fights Zombies, Bad Hair(Moviefone)

Daniel Day-Lewis' Most Insane Movie Makeovers
(Moviefone)