'Twilight: Breaking Dawn – Part 2': Michael Sheen on Bloody Battles and Dance-Offs — VIDEO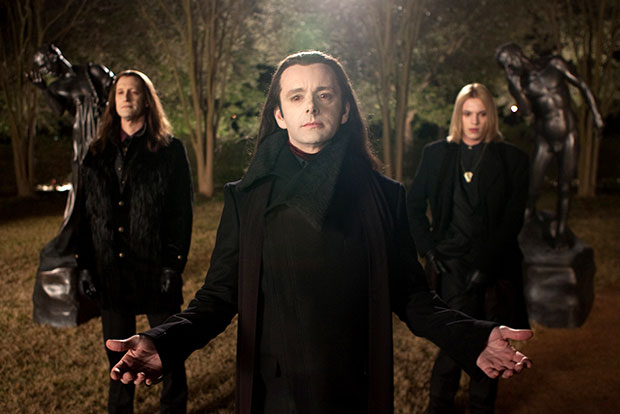 Twilight fans know Michael Sheen as the cold, vicious Volturi leader Aro, but in real life Sheen is as personable and downright jolly as they come. So when Hollywood.com sat down with him earlier this month to discuss all things The Twilight Saga: Breaking Dawn – Part 2, we were determined to get the skinny on the rumored dance-off that happened on set. (Of course we also had to ask about the twist ending, so if you haven't seen the film and want to avoid any spoil-age, stop reading and check in later.)
MILD SPOILERS AHEAD!
Even though the breathtaking battle scene at the end of the movie is a departure from Stephenie Meyer's source material, Sheen said he wasn't nervous about fan response, calling the twist "a reward for the loyalty of the fans." Director Bill Condon had earlier filled us in on the fact that several versions of the scene were filmed, with different characters meeting their maker according to the director's whims. "At one point Aro sort of turned into an animal," Sheen said. DVD extras, please!
Condon also spilled the beans on the choreographed dance routine that will be included on the DVD, though Sheen wasn't so happy with the end result — the Volturi weren't included, so he wasn't able to show off his movies. "Everyone should always have a secret choreographed dance routine," he said. Truer words have never been spoken.
Twilight: Breaking Dawn – Part 2 hit theaters nationwide today. Check out the video below:
Follow Shaunna on Twitter @HWShaunna
[PHOTO CREDIT: Summit Entertainment]
MORE:
'Twilight: Breaking Dawn – Part 2': Taylor Lautner on Imprinting and His 'Magic Mike' Moment
'Twilight': Breaking Dawn – Part 2′: What Did You Think of the Big Twist? [SPOILERS!]
'Twilight: Breaking Dawn – Part 2': Why Rob Pattinson Wants to Be a Sex Scene Director — VIDEO
From Our Partners:

'Twilight' Saga's Most Underrated Characters (PICS) (Moviefone)

Best (and Worst!) Movie Plot Twists Ever
(Moviefone)