'Twilight: Breaking Dawn – Part 2' Trailer Breaks Records, But It's No 'Dark Knight Rises'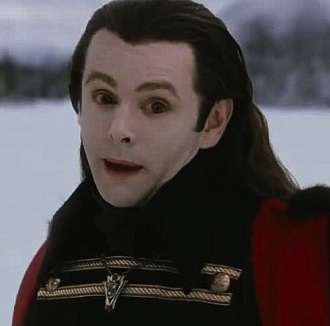 There's nothing quite like the trailer for a franchise's grand finale to get everyone on the Internet's blood-pumping. On Wednesday, the first full-length spot for The Twilight Saga: Breaking Dawn — Part 2 was unleashed by Yahoo, making Twilight devotees antsy to get another glimpse of footage and eliciting groans from the non-fans who just want the damn thing to be over (but who are most likely obsessing over The Dark Knight Rises trailers themselves, so no shame Twihards). According to Deadline, the trailer was a hit, as evidenced by the record-breaking number of downloads — over 7 million people imprinted on the minute and change of footage, blasting past the previous Yahoo record-holder: Breaking Dawn — Part 1.
Twilight fandom helping the latest (and final) movie's trailer to raise the viewing bar is no surprise, but will it translate to success? The frenzy surrounding the original Breaking Dawn — Part 1 trailer took that movie to a domestic total of $281.3 million. A hefty sum, but a solid $20 million under the top grossing series entry, a slot owned by Twilight: Eclipse and its grand total of $300.5 million. Trailer numbers aren't a clear indication of box office success, but Breaking Dawn — Part 2 shouldn't have an issue making gobs of money when it hits theaters in November. After all, it's the final chapter in the Twilight saga. The same scenario helped Harry Potter and the Deathly Hallows — Part 2 earn that franchise's highest gross, a whopping $381 million.
7 million is a sizable drawl for a single video, considering Twilight is one of the most divisive pop culture products in recent memory, but for those Batman fanboys looking for their faith to be restored in humanity (get off your high-horses!), there's solace to be found: The Dark Knight Rises broke iTunes trailer records back in December with 12.5 million views, a new high broken again in March, when the full-length spot for The Avengers was downloaded 13.7 million times in its first 24 hours.
But while Avengers and Dark Knight Rises sport numbers to evidence their inevitable mega-success, they lack one thing every Twilight trailer comes accompanied by: emotional trailer reaction YouTube videos. Behold:
The Twilight Saga: Breaking Dawn — Part 2 hits theaters November 16, 2012.
Follow Matt Patches on Twitter @misterpatches
More:
'Twilight: Breaking Dawn — Part 2': Vampires From Around the World, Unite! — TRAILER
'Twilight' Stars Pattinson, Stewart and Lautner Gaze Into Your Eyes! — POSTERS
Kristen Stewart: Why You'll Rethink the 'Twilight' Star in 2012
[Photo Credit: Summit Entertainment]