'Twilight': Breaking Dawn – Part 2′: What Did You Think of the Big Twist? [SPOILERS!]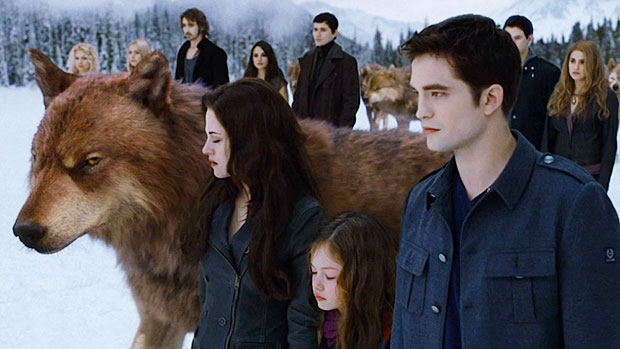 Before we get started, I have to put it all on the table: I'm not the biggest Twi-hard. I've never read the books, so when it came time for Breaking Dawn – Part 2's buzzworthy surprise ending, I was very happily surprised. However, given the intensity of Stephenie Meyer's fan base, I'm sure that many will not agree with me. So, Twi-fans, riddle me this — what did you think of the ending?
[SPOILERS AHEAD]
In case you're suffering from a major Twi-hangover, here's how it all went down: The Cullen and Volturi armies met on the field, and Aro was able to get his peek at Renesmee. He saw that she wasn't a deadly immortal child, so he instantly had the tattletale Irina (Maggie Grace) beheaded. So, of course, the Denali clan went ballistic. But their anger was quelled by the peaceful Cullens, until Aro and the Volturi insisted on starting a battle anyway — even though Renesmee wasn't a threat now, they couldn't be sure that she wouldn't eventually become dangerous. So Aro and Carlisle jumped and met in the air, and when the two vamps reached the ground, Carlisle was missing a head. I lost it.
This led to an epic battle that put the Hogwarts showdown to shame, in which Jasper, numerous vamps and wolves, and eventually Aro lost their lives. It was bloody, emotional, and pretty fantastic. But then, suddenly, after Aro was put down, we flashed back to the moment minutes before where Alice met Aro on the field. The whole battle was a vision of the future that would happen if he didn't go away in peace, and everyone we liked (well, except for Irina) was still alive. Phew. The Volturi left, and everyone lived happily ever after.
Now, I'm a huge fan of Game of Thrones and pessimism and the like, so I wouldn't have minded a bit more bloodshed in my Twilight. But I know that's not the point of this epic romance, so most will probably disagree with me. Still, let's leave it to the polls — vote in ours below, and defend your choice in the comments! 
<a href="http://polldaddy.com/poll/6694281/">What did you think of the surprise ending?</a>
Follow Shaunna on Twitter @HWShaunna
[PHOTO CREDIT: Summit Entertainment]
MORE:
'Twilight: Breaking Dawn – Part 2': Taylor Lautner on Imprinting and His 'Magic Mike' Moment
'Twilight: Breaking Dawn – Part 2': Why Rob Pattinson Wants to Be a Sex Scene Director — VIDEO
'Twilight: Breaking Dawn – Part 2': Kristen Stewart on Bella as a Feminist Role Model
From Our Partners:

'Twilight' Cast Now and Then (PICS) (Moviefone)
How to Be a Bond Director
(Moviefone)