This Creepy Robotic Baby Almost Made 'Twilight: Breaking Dawn – Part 2' the Scariest Horror Movie of All Time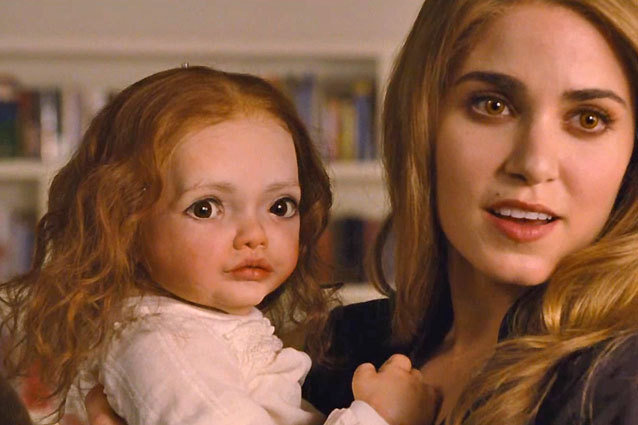 Yahoo! Movies
"A film franchise about vampires and werewolves? I am in!" Back in the fall of 2008, many a hopeful horror buff became dejected over the revelation that The Twilight Saga would be anything but scary. Sure, it has its share of chills, intensity, and character-driven gasps. But Stephenie Meyers' creation falls comfortably in the territory of romantic fantasy, not horror.
At least, it wouldn't until the fifth and final movie in the series, Breaking Dawn – Part 2. "What are you talking about?" And no, this isn't the same speaker of the above quote  — this is someone firmly on board with the Twilight movies as we know them. "I saw Breaking Dawn – Part 2," (see?) "and sure, it has adventure, but it ain't no horror!" That's because the film you saw subbed out its most disturbing element for a more… palatable replacement. We're talking about Renesmee. 
Bella's preternatural mudblood baby was played by a number of young human actresses, most notably Mackenzie Foy. But in the original incarnation of the film, producers hoped for the character to embody an eerier feel. So they brought in a robot baby. The most treacherously horrifying robot baby in the history of time. The unholiest abomination of our great planet to drag its dastardly appendages into the sorrowful light of day. The most sickeningly unforgivable piece of monster vomit that has sprung from the most tragic corners of the human imagination.
And so we present to you, courtesy of Yahoo, the original animatronic demon that played the role of Renesmee… just start shuddering now.