'Twilight: Eclipse' Director David Slade Making Another Vampire Movie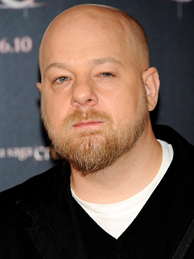 Hey look — another vampire movie!
We'll save you from the obvious joke here — you know, something like, "OH MY GOD THERE'S ANOTHER VAMPIRE MOVIE, I WANT BELLA TO DIE," that type of thing — and just get to the news. According to The Hollywood Reporter, David Slade, director of other vampire flicks like 30 Days of Night and The Twilight Saga: Eclipse, plans to helm another movie about bloodsuckers: Phoenix Pictures' The Last Voyage of the Demeter.
The script, written a decade ago by Bragi Schut, is set on the Demeter, the ship that transported Dracula from Transylvania to London in Bram Stoker's Dracula. In that story, the ship washes up on the shore of England with just one survivor. The movie will chronicle the voyage as the crew is slowly slaughtered by a mysterious passenger who we assume is a vampire. Currently, no one is cast for the lead role, but Ben Kingsley and Noomi Rapace are attached to co-star.
Jokes aside, The Last Voyage of the Demeter sounds pretty awesome if you're a horror fan. If Slade stays away from the whole over-the-top, I'm-going-to-make-this-scary-for-you-but-really-it-comes-off-as-comical vibe of 30 Days of Night and lets the atmosphere work for itself, it could be pretty terrifying (terrifying in a good way, not in a "omg-I'm scared for Edward and Bella's future" way).
Source: The Hollywood Reporter