Twilight's Edward and Bella Are All Wet for EW Cover
UPDATE: In addition to the nautical debauchery depicted below, we've got two more innocuous photos featuring Pattinson and Stewart. While I find it hard to believe that either one of them knows how to play chess, they sell the whole "shocked phone call" thing like a charm.


EARLIER: This new Entertainment Weekly cover gives you a look at Twilight's star-crossed, and soggy, lovers. We've seen the first posters for The Twilight Saga: Breaking Dawn – Part 1 before, but this is a closer look at Bella and Edward in action. Plus, it's the first appearance Robert Pattinson in a wedding ring,for the marriage-minded gals, and a shot of Kristen Stewart in a bra, for any straight guys/gay ladies in the audience.
The partially-clad shot is a newly risque turn for the teen-oriented series, which stresses the evils of premarital sex. But know that Edward liked it so much he put a ring on it, at the end of the last film, it's okay for the pair to get up to whatever water-based, baby-making shenanigans they feel like. It doesn't quite compare to True Blood's infamous nude Rolling Stone cover, but for the series so far, it's positively raunchy.
Expect more promotional photos to come, as BD-Day draws ever nearer. The Twilight Saga: Breaking Dawn – Part 1: Return Of The Jedi hits theaters November 16.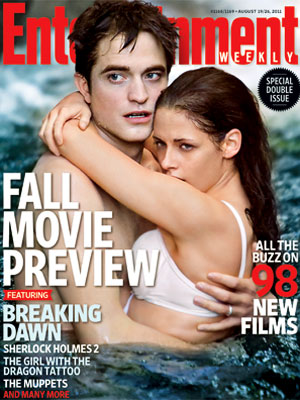 Source: EW