'Twilight': The Twilight Years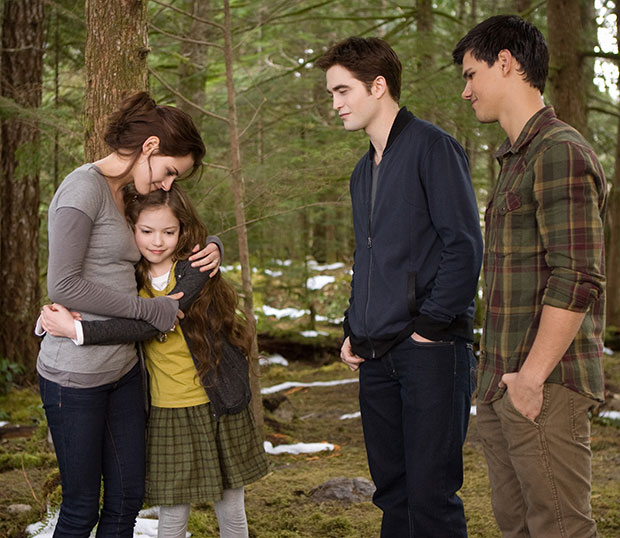 It's pretty safe to say that the worldwide phenomenon that is The Twilight Saga hasn't exactly appealed to the AARP set. Maybe it's all that weepy teenage brooding (get a job, Bella!) or all that gratuitous nudity (put on a shirt, young man, you'll catch a cold!) or that in their day vampires were, you know, actually scary. But it's more than likely the fact that, unlike the rest of us, this attractive family of vampires never gets old and just so happen to conveniently get stuck at their most attractive age. It's a bunch of unfair malarkey, kids. 
Still, that doesn't mean we can't imagine what it would be like if Twilight gang actually did make it to retirement age. With the final chapter in the saga,
Breaking Dawn — Part 2
now in theaters, the Twihard generation must now move to the next phase of their lives, so why not Edward, Bella, Jacob, and other fan favorite characters, too? We envision (full old people makeup and all)
Twilight: The Twilight Years
: 
Edward Cullen: Finally replacing drinking blood and hunting prey with Bloody Marys and hunting deer the old fashioned way, Edward gets out of the vampire racket to live out his retirement age properly with wife Bella in their lavish home in the woods.  Supports Bella's decision to go back to school (see below) but he opts not to as countless years of high school were more than enough. 
Bella Swan-Cullen: Now that she doesn't have eternity, Bella finally gets around to getting her college degree taking night classes (ironically enough, in Women's Studies) but almost doesn't pass as she writes every single one of her assignments about her dreamy husband. Also: starts smiling. Hey, it's never too late! 
Jacob Cullen: Still taking off his shirt, much to the dismay and confusion of his neighbors (does he really need to have his shirt off to get the mail or water his plants?), Jacob is now an actual creepy old man like the one he becomes in Breaking Dawn — Part 2. With his much-too-young wife Renesmee by his side, their kids and grandkids repeatedly beg Grandpa Jacob to not recall the story of how he met their mother. 
Dr. Carlise Cullen: After starting his own private practice, the beloved doctor and his wife Esme eventually retire to Florida to soak in all that sun they'd been hearing so much about (while wearing sunscreen, of course) and do what every retired doctor should do: playing lots and lots of golf and making collect calls to their kids on Sundays. 
Jasper Hale: With nonstop nagging from wife Alice, Jasper finally undergoes laser eye surgery and spends his twilight years no longer looking perpetually surprised.  
Rosalie Hale: Still fixated with beauty, Rosalie hits the pop culture crossover jackpot and goes on to begin holding half-human/half-vampire child beauty pageants with Renesmee stepping in as an occasional guest judge. 
Charlie Swan: Salmon fishing in the Yemen with Sue Clearwater by his side, of course. Well, they'd go fishing for trout, too, of course. Because, in the words of Charlie in Breaking Dawn — Part 2, "The woman knows her trout." 
Aro: After realizing he foolishly spent most of his life in the dark being evil when he could have been out sightseeing and soaking in all the culture that Italy has to offer, Aro pens the international bestseller Breaking the Volturi Code and spends the rest of his day sipping wine, eating cheese, hanging out at George Clooney's villa, and giggling like a mad man. 
How would you envision the Twilight characters at retirement age? I'm sorry, I didn't hear that, you'll have to speak up. 
[Photo credit: Summit Entertainment] 
More: 
The Twilight Bucket List: 9 Suggestions for Life After Breaking Dawn
Kristen Stewart as a Mom? 12 Unrealistic Parent/Child Age Gaps in Movies — GALLERY
From Our Partners:

'Twilight' Saga's Most Underrated Characters (PICS) (Moviefone)

Best (and Worst!) Movie Plot Twists Ever (Moviefone)