Twist! Will Smith and Jaden Smith Are The Only People Left 'After Earth' — TRAILER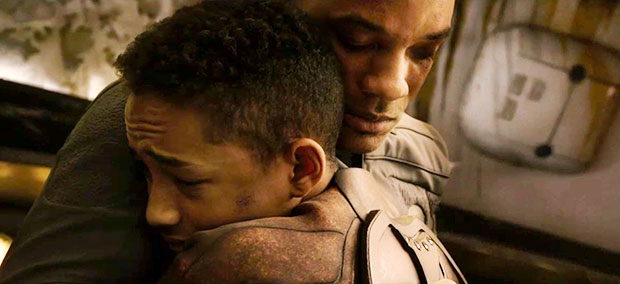 Alright, so what's the twist? After Earth, the upcoming sci-fi action vehicle starring Will Smith and his son Jaden Smith, is the latest film from director M. Night Shyamalan, so there must be a twist. We know it's not that after their terrifying crash landing, they don't run into some kind of "Damn you all to hell!" Planet of the Apes situation (though, primates do make an appearance in the trailer) and they've been on Earth all along. Papa Smith already confirms that for us. Maybe it has something to do with the elder Smith's indistinguishable accent. Seriously, what is that?
Or maybe, in the ultimate twist, there's no twist at all. That after The Lady in the Water and The Village and The Happening, Shyamalan (whose name is completely absent from the trailer, perhaps because Columbia Pictures didn't want a debacle on par with the Devil trailer) decided once and for all to make his twists deader than Bruce Willis in The Sixth Sense. That instead, he'll simply rely on the star power of the Smiths and some dizzying CGI effects of a post-apocalyptic Earth. The preview — which was released on Monday — certainly does. (None of the other cast members, like Zoe Kravitz or Isabelle Furhman are anywhere to be seen in the two-plus minute clip.)
The preview for the movie, featuring the father and son duo (who have not appeared on the big screen together since 2006's The Pursuit of Happyness) trying to survive in a very post-apocalyptic — 1,000 years, to be exact — world, should certainly conjure up other cinematic memories. The intense, Cast Away-like crash, the I Am Legend-esque survival skills of Senior Smith, and perhaps most notably, a mysterious island prime for LOST-level theory baiting. Oh no. Guess we're not done with those twists after all. Watch the full trailer here:
After Earth arrives in theaters June 7, 2013.
[Photo credit: Columbia Pictures]
More:
Jaden Smith is Looking More Like Will in New 'After Earth' Image
Why Will Smith Said No to 'Django Unchained'
Will Smith: We Miss Mr. July