Twitter Hilariously Reacts To The #FiftyShades Trailer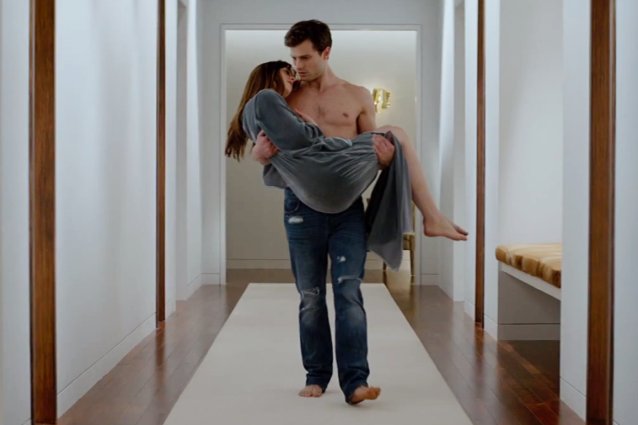 YouTube/Fifty Shades of Grey, Focus Features
Bloggers, cultural critics, fans, haters, astronauts—everyone, everywhere is buzzing about the highly-anticipated Fifty Shades of Grey movie trailer, which was finally released this morning. Our own Michael Arbeiter made some profound observations about Anastasia Steele's troubling interview techniques, and many of you have voiced your own concerns. Here are some of the most hilarious (and oddly specific) tweets about #FiftyShadesTrailer.
1. What does Ariana Grande have to do with #FiftyShades? EVERYTHING:
before and after watching the Fifty Shades of Grey trailer pic.twitter.com/QyW2bc5ZrG

— mareyna&the diamonds (@sleeplesstyles) July 24, 2014
2. Hopefully, he won't be disappointed:
Can't wait for #FiftyShades to come out so I can watch people do it on a big screen for once! #FiftyShadesTrailer

— Garrett Mendez (@GarrettMendez) July 24, 2014
3. A briliant marketing move from this tile company:
#bedrosians #tile has more than #fiftyshades of #grey @SherwinWilliams #ColorSnap. What do you think? pic.twitter.com/RzqfjoaRve

— BedrosiansTile (@BedrosiansTile) July 24, 2014
4. Paper Magazine gets a gold Internet star for this one:
Think we all know this jazz poster is the real star of the #FiftyShadesTrailer pic.twitter.com/mtGm364dzn

— PAPER Magazine (@papermagazine) July 24, 2014
5. Wait. Not everyone's psyched?
My reaction to the #FiftyShadesTrailer was identical to my reaction to 2 Girls 1 Cup.

— Dave Ahdoot (@DaveAhdoot) July 24, 2014
6. There have also been lots of demands for a re-casting of Christian and Anastasia:
Reshoot the #FiftyShadesTrailer immediately w/ actors the world wants as Christian and Anastasia : Paul Giamatti and June Squibb!!

— Don Moss (@Justgreat79) July 24, 2014
7. The Beyhive also came out in support of their Queen:
Beyonce BETTER sing that crazyyy in lovveeeeeee down-tempo #FiftyShades #FiftyShadesTrailer #FiftyShadesOfGreyTheMovie

— BeBe© (@TheeBeBe_) July 24, 2014
8. Some people just got incredibly hungry:
The 'Fifty Shades Of Grey' trailer makes me want a hot dog real bad

— Jordyn Glenn (@Jordyn_Glenn) July 24, 2014
9. Yes, Jess. We see exactly what you did there:
People hating on Fifty Shades need to be spanked… You see what I did there

— Jessica Evans (@jessicaevans44) July 24, 2014
10. God has spoken:
That Fifty Shades of Grey trailer makes Me want to ban fornication all over again.

— God (@TheTweetOfGod) July 24, 2014
Follow @Hollywood_com Follow @shannonmhouston