Two-Face Is Frankenstein's Monster And Nobody Seems To Care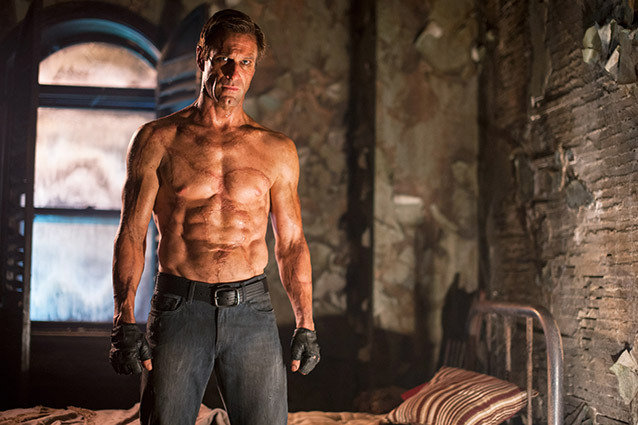 Lionsgate
These semi-blockbusters are really getting old. The newest Underworld clone, I Frankenstein, will not amaze you. Aaron Eckhart, most famous for playing Two-Face in The Dark Knight, takes on the role of Frankenstein's monster. Eckhart, who has definitely put the work in at the gym, looks like a fish out of water in this action flick. But this movie is just another example of the lame productions that studios chuck out to audiences during non-summer time.
Major successes don't usually materialize in the first quarter of the year. It's bad enough that I, Frankenstein looks so much like Underworld — bland entertainment at best. If this movie had a summer release date we would know it had the potential to dazzle us with explosions, fights and general property damage all around.
Eckhart is an incredible actor, so why stoop to such a bizarre adaptation of the Mary Shelley novel? I, Frankenstein puts Eckhart's Adam (since the monster doesn't have a name) in a centuries-old war with other creatures. On paper that could be a good idea, but the execution, based on the trailers, looks very watered down. A true adaptation of the book would be more thrilling than this mess.
With today's special effects, Frankenstein's monster would be a frightful sight. It's actually a bunch of random body parts sewn together to look, well, monstrous. The end result looks nothing like a buff Two-Face with a few scratches. Get Eckhart and some other serious thespians together for a faithful adaptation. That would be worth watching.