Two Nights Of Tarantino Brings 'Reservoir Dogs' and 'Pulp Fiction' Back To Theaters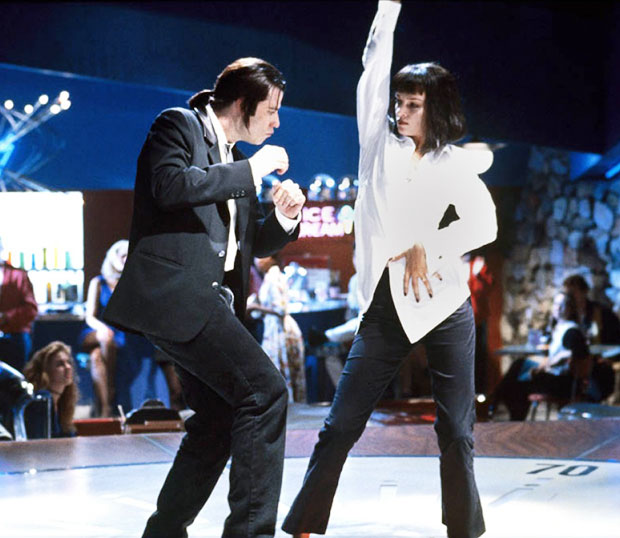 To celebrate legendary Quentin Tarantino's film career spanning two decades, Miramax, NCM Fathom Events and IGN are bringing two of his most acclaimed movies back into theaters for one night each. This December you can catch both Reservoir Dogs and Pulp Fiction in movie theaters nationwide.
Tarantino XX: 'Reservoir Dogs' 20th Anniversary Event will hit select movie theaters nationwide on Tuesday, Dec. 4 at 7:00 p.m. local time. In 1992, Tarantino introduced himself to the film scene with his debut of Reservoir Dogs. Twenty years later, the crime-thriller is back in theaters. Introducing key elements – non-linear storytelling, violent crime, and intricate dialogue- that have become hallmarks of Tarantino's work, Reservoir Dogs follows the story of six criminals hired to carry out a diamond heist, but when the police show up at the time of the robbery, panic spreads, violence ensues and suspicions grow. Reservoir Dogs 20th Anniversary Event will also feature trailers hand-picked by Tarantino that influenced his work, and exclusive new interviews.
Tarantino XX: 'Pulp Fiction' Event hits theaters two days later on Thursday Dec. 6 at 7:00 p.m. local time. Recognized on AFI's Top 100 list, Pulp Fiction weaves three interconnected stories of seemingly unrelated people into an intricate tale of violence and redemption. Jules Winnfield and Vincent Vega are two hitmen out to retrieve a suitcase stolen from their employer, mob boss Marsellus Wallace. Wallace has also asked Vincent to take his wife Mia out while he is away. Butch Coolidge is an aging boxer who is paid by Wallace to lose his next fight. These intersecting storylines starring John Travolta, Bruce Willis, Samuel L. Jackson and Uma Thurman are brought together in a highly-stylized way that has become a cinema classic.
Hollywood.com can also give you an exclusive look at the Pulp Fiction themed panel of the five part fold-out cover/interior of the upcoming box set Tarantino XX: 8-Film Collection Blu-ray. The artwork is from artist Ken Taylor, whose work has been previously utilized by the Mondo poster company. Check it out here.
Follow Sydney on Twitter @SydneyBucksbaum
[Photo Credit: Miramax Films]
More:
'Django Unchained': The Highs and Lows of a Tarantino Movie — TRAILER
Some Advice for Clark Kent After Quitting His Job and Joining the Internet
'Iron Man 3': What Secrets Does the Trailer Reveal?
From Our Partners:

Jaw-Dropping Actor Transformations
(Moviefone)

(Moviefone)