Under the Radar: Amber Heard of 'The Rum Diary'
While there is no small measure of delight inherent in the weekly spotlighting of on-the-rise talent, there is something further rewarding about showcasing up-and-comers from my own town. Such is the case with this week's subject: the lovely, Austin-born Amber Heard.
This week, Amber will appear alongside Johnny Depp in The Rum Diary, based on a novel by, and tracking the continuing exploits of, gonzo journalist Hunter S. Thompson. In anticipation of the release of this Austinite's latest film, here's a look back at some of her previous work highly deserving of your attention.
Friday Night Lights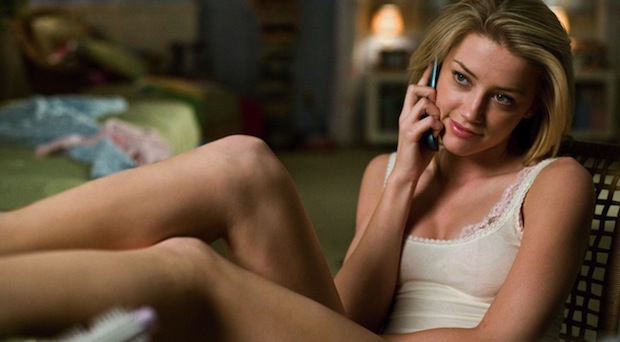 This 2004 film, which spawned its own television series two years later, is where Amber Heard first garnered attention.
Based on the book by Buzz Bissinger, the film follows the football team of Permian High School in Permian, Texas in the late 80s. Friday Night Lights adeptly chronicles the events of that season from multiple perspectives and eloquently investigates some fascinating connections between high school football and larger issues such as racism, small town economics, and the uncertainty of adolescence. If you are a fan of either football or simply fantastic characters and enthralling stories, Friday Night Lights is a film catered to your tastes. Heard, in her first feature film, plays the girlfriend of an Odessa-Permian receiver whose father, a former player, is intensely abusive. Her pleas for humanity during the father's drunken tirades enhance the film's emotional weight.
Zombieland
Even with the endless saturation of zombie media over the last several years, Zombieland managed to breath some new life into the shambling subgenre with its unique blend of satirical comedy and legitimate zombie-fighting action.
While Amber's role in the film was small and her screen time brief, she succeeded in creating one of Zombieland's most memorable moments. During the scene in which we are given insight into the background of the film's young hero, played by Jesse Eisenberg, he is shown comforting his attractive neighbor who has just been attacked by what turns out to be the walking undead. When she inevitably transforms, Heard turns in a very savage and wholly convincing zombie performance; throwing her entire body into the part with great aplomb.
Pineapple Express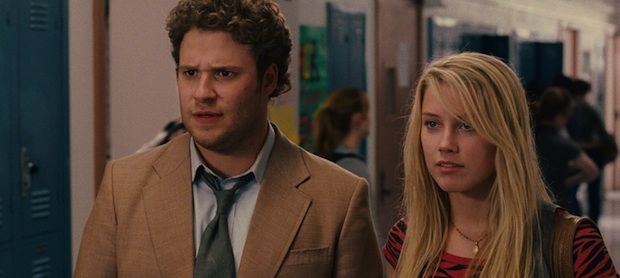 The film that, along with Harold Kumar Go To White Castle, officially ushered in the glorious return of the studio stoner comedy, 2008's Pineapple Express was definitely a big hit (no pun intended). The film charts the exploits of two hapless potheads, played by Seth Rogen and James Franco, who inadvertently get caught up in a murder conspiracy. Here again, Heard's role is a supporting one, playing Rogen's age-disproportionate high school girlfriend. She engages in some impressive banter with Rogen, keeping his character perpetually humble.
Drive Angry 3D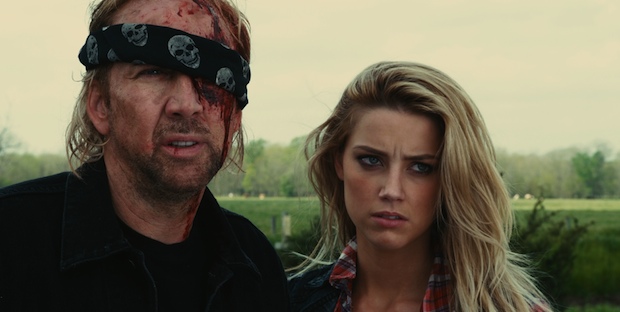 Nicolas Cage plays a man with a dark and infernal past who is on a violent quest to avenge the death of his daughter and to recover his infant granddaughter from an evil cult leader. Accompanying him on this quest is a beautiful young woman—who also happens to be tougher than a railroad spike.
Drive Angry may have repelled a few potential viewers while it was in theaters, due to its silly trailers and heavy reliance on 3D. Truth be told, it is quite a silly movie. But it's also incredibly entertaining (in an old school exploitation sort of way). Heard is razor sharp as the character Piper, who proves to be simultaneously the voice of reason for Cage's bizarre protagonist and the perfect sidekick for his misadventures.
All The Boys Love Mandy Lane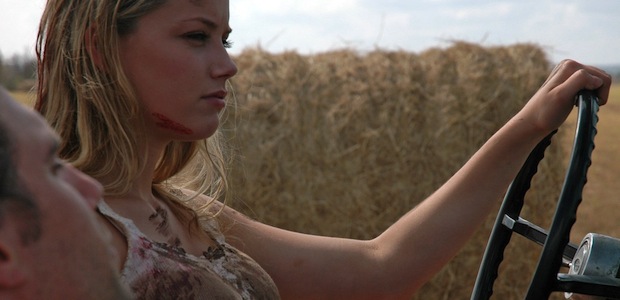 Mandy Lane is a popular girl at her high school, but it's been a while since she's attended any parties. The last one she attended ended with the senseless death of one of her classmates. Almost a year later, she is convinced to attend a shindig at the ranch home of the father of another student. But as the evening progresses, several attendees begin to disappear one by one.
Up front we will warn you that All The Boys Love Mandy Lane is going to be a tough film to track down. It is not currently streaming and this American independent horror film was never released on DVD stateside. But should you possess a region-free player that would allow you to import this film, it is more than worth the effort. The film combines classic 80s horror tropes (the party horror movie) with the more extreme trends of modern horror. Heard is electric and eerily intriguing in the titular role.