Under the Radar: Hank Azaria of 'Happy Feet Two'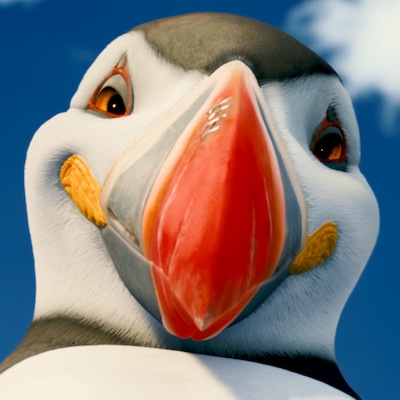 Hank Azaria is an actor with whom you're probably more familiar than you're aware. You may not have seen his face, but you've almost certainly heard his voice.
Azaria provides the voices of some of the most beloved characters on The Simpsons; Apu, Chief Wiggum, and Moe just to name a few. But as phenomenal as Azaria is on The Simpsons, the curse of vocal actors is that their faces, and even their names, are subsumed by the characters they voice. With Azaria all set to provide his talents once again to an animated film this week, Happy Feet 2, we thought we'd give you a few titles to seek out featuring Hank in the flesh in order that you might put a face to his many, many voices.

Quite possibly Azaria's best cinematic performance, The Birdcage is a must-see comedy. An American adaptation of the French play La cage aux folles, The Birdcage follows the misadventures of a gay couple trying to pass themselves off as straight man and wife in order to impress the conservative parents of their son's fiancé. The film is a fantastic modern farce and Azaria, as the flamboyant Guatemalan butler Agador, is one of its finest elements. His constant stumbling as he adjusts to "straight men's shoes" and his overly demonstrative baritone voice disguise is sure to have you rolling.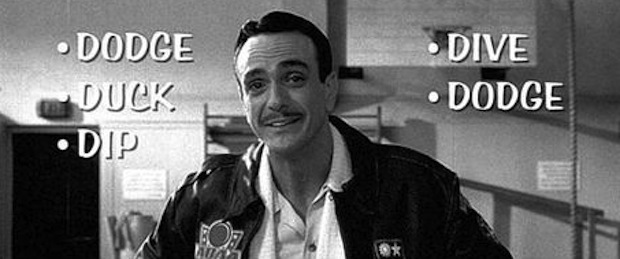 As sports comedies go, few balance irreverent silliness with legitimate understanding of sports movie tropes as perfectly as does Dodgeball: A True Underdog Story. It's safe to say that, after watching it, you will never think about that terrible gym class game the same way ever again. Every single member of Dodgeball's formidable cast fires on all cylinders, and that includes Hank Azaria. Though featured only for a moment, as a younger version of Rip Torn's Patches O'Houlihan in a filmstrip our heroes watch, Azaria's commitment to the over-the-top satire of the game of dodgeball as well as 1950s PSAs is a riot.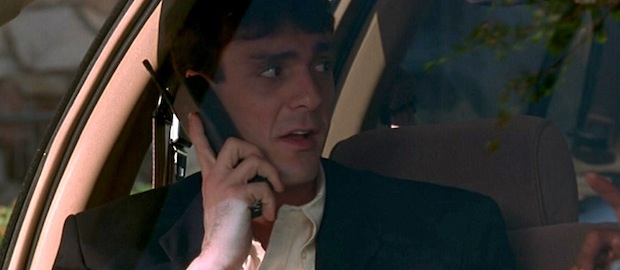 Easily one of my favorite romantic comedies, Grosse Pointe Blank stars John Cusack as a hitman terrified to return to his high school reunion and face his abandoned sweetheart for whom he still carries a torch. The movie puts such a clever and unique spin on the tired rom-com genre and gets plenty of attention for its soundtrack alone. But part of what makes the film so effective is that while the story is absurd, the actors are playing it as a serious crime story. Azaria plays a federal agent following Cusack, waiting for him to attempt to take out his assigned target so that he can in turn take out Cusack. His conversations with his partner amount to one of the film's most charming quirks.

Azaria appeared again with John Cusack, as well as some of the biggest names in the business, in the 2001 comedy America's Sweethearts. The film centers on a beloved Hollywood power couple who experience a very bitter breakup and whose latest film is being held hostage by its lunatic director. On paper, the film seems like a flimsy, lifeless studio comedy, but the wry shots it takes at celebrity dating and the media really does elevate the material and makes for a thoroughly enjoyable film. Azaria plays Latin actor Hector, a big reason for the big breakup. His lisp and wild tirades of insecurity are incredibly fun to watch.

Mystery Men is the story of a group of superhero wannabes who are forced to face off with very real supervillain Casanova Frankenstein when the city's chief protector, Captain Amazing, goes missing. This is going to be hard sell as I fully admit that Mystery Men is a tremendously awful film. However, it is something of a guilty pleasure for me. I enjoy the half-baked plot, woefully dated production aesthetics, and to-a-fault outlandish characters. One of the most outlandish characters is Azaria's Blue Raja, a hero who dresses as a swami, speaks with a British accent, and hurls silverware at his enemies. Azaria's dopey accent and his insistence upon the appropriateness of his hero persona is a hoot. That's right, I said hoot!