Under the Radar: 'Hatchet 2'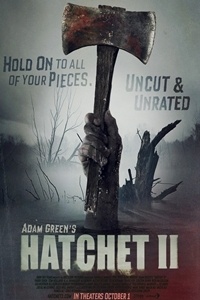 It's not often that an entry in this column carries a caveat. The very purpose of these articles is to shed light on the unsung and the obscure in such a way as to cast a wide net for a larger audience. It is therefore counterproductive to thin the herd by warning off certain people. But if you are not a fan of classic, gory, splatter or slasher films from the '80s, I am not going to be able to convince you to seek out this week's subject. It may behoove you to stop reading now, but thanks for stopping by. Well, now that those folks have left the room, have I got a disgustingly awesome treat for the rest of you!
In 2007, a film was released that paid the ultimate homage to the horror films on which so many of us grew up and for which we harbor massive affection. The film was Hatchet and, along with taking horror back to some of its goriest roots, it introduced the world to two new boogeymen: serial killer Victor Crowley and director Adam Green. The film got a limited theatrical release, but it was enough to develop a near cult following and cultivate a demand for a sequel.
Last year, Adam Green unleashed Hatchet 2 on film-fest audiences and managed to outdo himself on nearly every conceivable level. In the horror universe, there are a few requisite upgrades fans expect. If you've ever seen Scream 2, you're aware of these conventions. Green hurdles the first expectation by upping the mayhem and bloodletting to astronomical proportions. The carnage in Hatchet 2 is, by all rights, inhuman, but for fans of the genre, it is like being visited by an old friend…who then kills you with a chainsaw. If you've seen the first Hatchet, many of the familiar brutalities are revisited and new ones are introduced that will elicit as many cheers as they do groans. The fact that a staggering majority of these kills is achieved with practical effects is a true testament to the legitimate artistry of special effects and how the all-too-frequent replacement of these effects with CG is shameful.
Another criterion of the horror sequel is that it should enhance the concept of the original film and, especially with slasher films, further the legend of its monster. Hatchet 2 gives us an interesting backstory for Victor Crowley and ties formerly ancillary characters in as conspirators in Crowley's origins. But more than that, Green actually weaves his earlier works into this film to lend credence to the idea that they all exist within the same universe (a la Tarantino). There are ads in shops for the "Slap Chop" from his fantastic Halloween-themed short film as well as ubiquitous television sets featuring press conferences detailing the aftermath of the events of Frozen.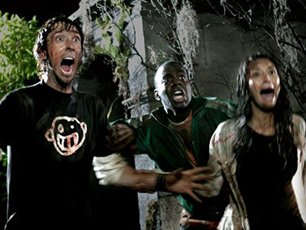 But what I really love about Hatchet 2 is its reverent celebration of the horror genre as a community. As with the original, the film stars two major titans of horror: Tony Todd (Candyman) and Kane Hodder (Friday the 13th VII-X). But Hatchet 2 also offers cameos from horror filmmakers both classic and fledgling: Joe Lynch (Wrong Turn 2), Lloyd Kaufman (guru of Troma Films), Marcus Dunstan (The Collector), Mike Mendez (The Gravedancers) and Dave Parker (The Hills Run Red). It also stars Danielle Harris (the child star of Halloween 4 & 5) and Tom Holland (director of Child's Play and Fright Night). The inclusion of all these horror personalities echoes Green's commitment to the genre and his singular desire to make films for avid fans like us.
On top of all of this, Hatchet 2 is tighter, smarter and more elegantly shot than its predecessor. It also features better overall performances, especially those of Kane Hodder and Hatchet franchise newcomer A.J. Bowen. The spirit of the original film is alive and well but nicely augmented in perfect sequel fashion. The ending of the film is spectacular and, again, feels like a love letter to fans of great slasher films.
Being that the MPAA more or less stole away any opportunity you may have had to see this film in theaters — do not get me started — it isn't a mystery as to why you may not yet have seen Hatchet 2. But this injustice will be rectified next Tuesday, when the film is released on DVD and Blu-ray. I highly suggest picking up a copy, gathering your most hardcore horror-geek buddies, and enjoying a night of blood, boobs and dark comedy as only our beloved genre can deliver.