Under the Radar: 'Le Cercle Rouge'

Calling a film a "classic piece of French cinema" can be mixed praise. For some, this represents the height of auteur filmmaking that elevated the standards for how movies captured the essence of the human condition. For others, the words "French cinema" are inextricably linked to the words "pretentious self-indulgence." As much as it may jeopardize my already dubious reputation as a critic, I would have to align myself with the latter faction. I am just not a fan of French cinema, or more specifically, French New Wave. I detest films wherein I cannot empathize with a single character because his biggest ambition in life is tantamount to the biggest obstacle he must overcome: being well-off and bored. But obviously not all French films of this era fall under this unfortunate banner, and one French filmmaker has proven himself time and time again to be the antidote to French New Wave: Jean-Pierre Melville. This week, Criterion released one of his best films, Le Cercle Rouge, on Blu-ray.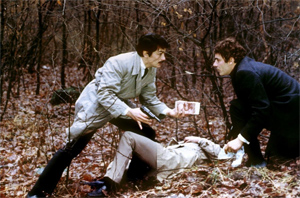 Le Cercle Rouge is the story of two men who, by virtue of happenstance, end up working together to pull off an incredibly elaborate heist. Corey (Alain Delon) is a recently paroled convict who has plans for his next criminal enterprise before he has even vacated his prison cell. Vogel (Gian Maria Volonte) is also a convict, but one not patient enough to wait for a state-sanctioned release. His flight from the law, following his brazen escape, finds him hiding in the trunk of Corey's car. The two find an instant kinship once Vogel's presence is detected by Corey, and together with a crooked cop, they execute one of the largest jewel heists in France's history.
As an artist, many different aspects of American culture inspired Melville. One of the things he loved most about American cinema was the gangster movies of the early 1930s. This reverence led Melville to create some of the most interesting and beautiful gangster films of his own era. The influence is felt in costuming, set pieces and the existence of no less than two dance sequences featuring flappers. Melville had an enormous respect for gangster attire. He referred to the trench coat and fedora—so ingrained in the iconography of the gangster film and of film noir—as the armor of the characters. It wasn't merely clothing but rather something that altered the composition of their souls and lent them the freedom to travel to the darker regions of the human heart.
This armor allowed for a muddying of the lines that clearly divided heroes and villains—yet another fantastic reference to American crime films. Much like Cagney or Edward G. Robinson, the audience is seduced into identifying with the criminals far more than the police, implementing a skewed conception of good and evil. The staggering difference inherent here is that, where the Warner Bros. gangsters of the '30s and '40s were flashy, fast-talking, larger-than-life personalities, Melville's gangsters are intensely introspective and reserved: personifications of a post-modern society.
Repeat Melville collaborator Alain Delon shines as the central figure in this moody landscape of cash, guns and shady characters. Delon is the paradigm of cool who effortlessly commands any room he enters. He is able to communicate a tempest of thought and emotion under the guise of one icy glare. The relationship between him and Vogel is what drives the story. The title is taken from a Buddhist philosophy on destiny and the inevitability of certain events. The heist to which they are inalterably traveling ends up being the film's shining achievement. Where the entirety of the film surrounding the heist is eloquently simplistic, the heist itself is painstakingly executed right before the audience's eyes in near silence. It is truly amazing to watch.
Criterion has once again proven itself to be a landmark of film preservation. This Blu-ray is absolutely breathtaking. The images are so clear, so immaculate that it is hard to imagine Le Cercle Rouge was filmed over 40 years ago. The intricacies of Melville's cinematography, his employment of unique transition and shot composition, are allowed to achieve full effect. The use of several shades of gray within various sets especially stood out to me on this viewing, which I think, again, echoes Melville's rejection of the absolutes of right and wrong. As far as extras go, the featurette entitled "Jean-Pierre Melville (portrait en 9 poses)" is a revelation for Melville fans—fascinating, intimate, eye-opening.
Jean-Pierre Melville is the filmmaker that the French New Wave directors wanted to be. That is not simply biased jest. Both Francois Truffaut and Jean-Luc Godard were great admirers of Melville and heavily influenced by his work. I love that Melville was able to utilize high art and yet tell stories and create characters that were unapologetically badass.