Under the Radar: 'Quick Change,' Bill Murray's Forgotten Crime Comedy

Ruben Fleischer's first film, Zombieland, was a triumph of genre-bending comedy and his latest, 30 Minutes or Less seems poised to carry on that same tradition. In preparation for the crime comedy's release this week, I thought it appropriate to discuss another bank heist comedy of which you've probably never have heard: 1990's Quick Change starring Bill Murray.
Quick Change is the story of a clown who walks into a bank; the punch line being that he's there to rob the place. He and his crew manage to evade capture and walk away scot-free. This sets off a series of unfortunate, and undeniably whacky, events that make getting from one side of town to the other into an epic journey. As a dogged police detective gets wind of their trail, the trio of thieves tries hard to survive the perilous hazards…of the big city at night.
Quick Change is an amazing film and remains largely unseen even among Bill Murray fans. For the life of me, I cannot figure out why this movie is so overlooked. Murray is at his very best with his snide, acerbic one-liners and general distaste for all humanity. He is anchored by a charming Geena Davis and a completely unhinged Randy Quaid; yes, this movie is so good it even makes Randy Quaid bearable. The three of them provide a hilarious mixture of reactions to a number of ridiculous situations. With a cast like this, it allows for the movie to be just as character-driven as it is a madcap comedy of errors. The script is wonderfully clever and the pacing is airtight.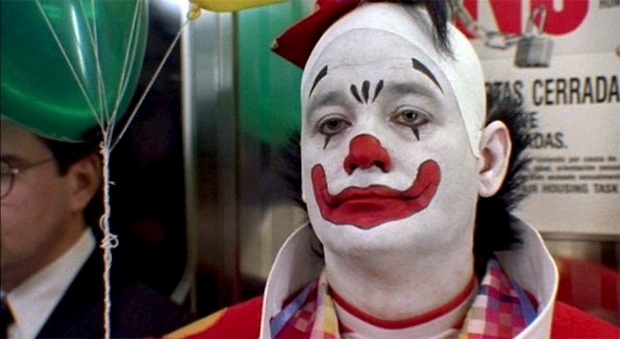 What's really special about Quick Change, apart from everything else mentioned, is its supporting cast and cameos. In addition to Murray, Davis, and Quaid, we get Jason Robards as the detective hot on their heels. Robards is one of my father's favorite actors; frankly he's probably a favorite actor of many of our dads. He has this grizzled, weathered, Wild West quality that centers the zaniness and grounds the plot. We also get a hysterically funny performance from Tony Shaloub as a cab driver with no clue as to what's going on; arguably making him as much in the know as anyone else in the film. Phil Hartman, Stanley Tucci, and Kurtwood Smith all turn up as well making for an intensely well rounded cast.
If the trailers for 30 Minutes or Less are any indication, the two films have a lot in common. They both center on a group of hapless thieves—but while the boys in 30 Minutes or Less are hapless in the arena of committing the actual robbery, the protagonists in Quick Change display their ineptitude in the far more simple task of getting to an airport. The irony of course being that they are crafty enough to execute the perfect heist, but ill-suited to negotiate the streets of New York. In both films, the comedy comes from unbridled absurdity. If the idea of criminals in ape costumes blowing up a teddy bear to make a point seemed as absurd as it gets, wait until you see two men bicycle jousting in the projects; one of Quick Change's most memorable scenes.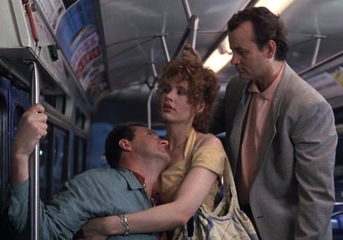 Another similarity 30 Minutes or Less and Quick Change appear to share is their pacing. The title of Fleischer's film alone succeeds in establishing a ticking clock to drive the rest of the narrative. In Quick Change, our anti-heroes race against time to make their flight and dodge any law enforcement figure they come across. Taking Zombieland as precedent, I would imagine 30 Minutes or Less will race along at a break-neck clip. Similarly, Quick Change seems to reach its finale in the blink of an eye. As to cameos, given the fact that Quick Change star Bill Murray was the epic surprise guest star of Zombieland, I can only imagine who might show up in 30 Minutes or Less.
Though it may be hard to find, Quick Change is a film well worth your time and the effort required to obtain it. Before you run off to the multiplex this weekend to see a farce about the world's worst crooks, prepare your visual palate by watching a farce about some of the world's best crooks…who are also the world's worst tourists.
Read our review of 30 Minutes or Less!