Under the Radar: The Blind Buys

The DVD and Blu-ray releases of the major studios are so prevalent as to be available for sale everywhere from Best Buy to 7-11. But every so often, you need to gamble on something a little obscure.
Here to help, as always, I present to you some blind buys that won't have you running back to the return counter of your local media vendor:
Battle Beyond the Stars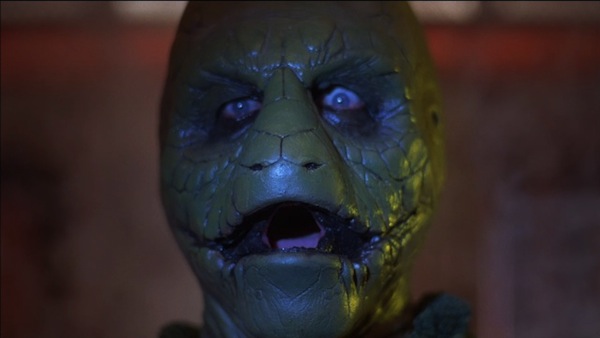 Company: Shout! Factory
Format: DVD & Blu-ray
Why Buy?
Roger Corman's campy interstellar remake of Akira Kurosawa's The Seven Samurai is among his very best films, both in terms of entertainment value and legitimate quality. The wild characters, the fantastic set pieces, and the charmingly inhibited special effects all shine beautifully in Shout! Factory's latest transfer. Little known fact: James Cameron's first visual effects job was serving as art director for Battle Beyond the Stars.
Special Features Include: Commentaries with John Sayles, Roger Corman, and production designer Gale Anne Hurd, a new interview with actor Richard Thomas, trailers, radio, and TV spots.
The Reef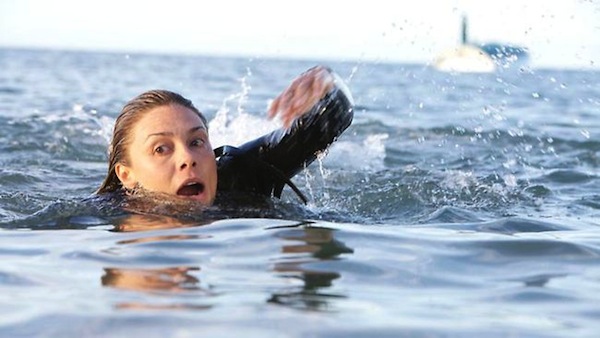 Company: Anchor Bay
Format: DVD & Blu-ray
Why Buy?
A group of friends go boating for the weekend when their craft is capsized while crossing a coral reef. Adrift in the middle of nowhere, they thought drowning would be their biggest concern…they were wrong.
If you are laboring under the delusion that Jaws has the market cornered on shark films, give this recent Aussie thriller a spin. Admittedly a low-budget outing, the amiability of the characters and the suspense created with minimal explicit scares is very impressive.
Special Features Include: Making of featurette "Shooting with Sharks."
Things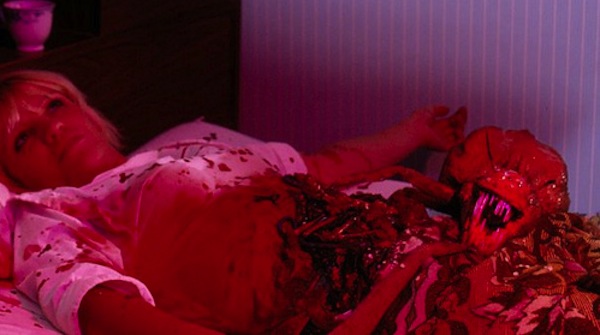 Company: Severin Films/Intervision
Format: DVD and VHS!
Why Buy?
This particular recommendation carries the biggest caveat: only die-hard fans of utterly awful cinema need apply.
Severin Films once again demonstrates their commitment to completely forgotten films with this 1989 Canadian gorefest. If you thought it weren't possible to make a movie for less than the cost of a six-pack of Labatt Blue…think again! What really makes the experience of Things worthwhile is the fits of laughter into which the inexplicable dialogue and nonsensical, but ultra-violent, effects will send you. Props to Severin for also releasing the film in a limited edition VHS format for hopeless nostalgics…like me.
Special Features Include: Far more TV interviews with Things star Barry Gillis than he ever deserved, original trailers, and reactions to the film from Texas Chainsaw Massacre director Tobe Hooper, and Hobo with a Shotgun director Jason Eisner.
The Nesting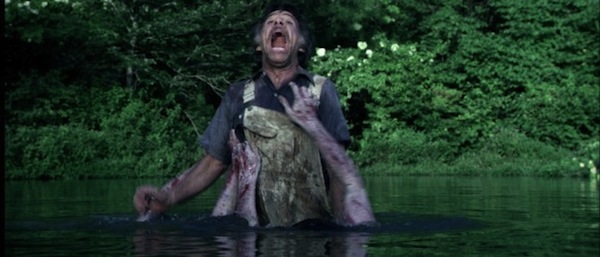 Company: Blue Underground
Format: Blu-ray
The concept behind Blue Underground's latest horror release is fascinating. A woman who is incredibly agoraphobic moves into a house that turns out to be haunted. So while she is being tormented by malevolent spirits inside the house, she is frozen by her fear and can't bring herself to leave the house. Though largely a b-movie, there are some genuinely creepy sequences that make The Nesting a true gem.
Special Features Include: Deleted and extended scenes, trailers, TV spots, and a poster & still gallery.
Damnation Alley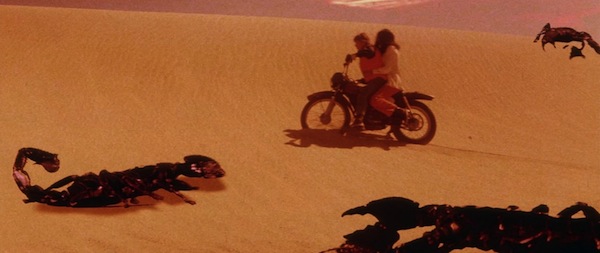 Company: Shout! Factory
Format: DVD & Blu-ray
Just as well as suspected, the Cold War ended with the almost complete annihilation of the human race. A group of soldiers, who were posted in an underground installation when the nuclear doo-doo hit the fan, set out to cross the barren wasteland that was once the United States in what will go down in history as cinema's coolest RV. Damnation Alley is a great little adventure film that, but for a few perfectly placed swears, could have easily been produced by Disney. The cast is outstanding and includes George Peppard (TV's The A-Team), Jan-Michael Vincent (The original Mechanic), and a very young Jackie Earle Haley (Watchmen). Giant scorpions, mutated rednecks, and flesh-eating cockroaches! What more do you need?
Special Features Include: Commentary with producer Paul Maslansky, three new featurettes, theatrical trailer, and TV spots.
13 Assassins
Company: Magnolia Home Entertainment
Format: DVD & Blu-ray
Takashi Miike is a name with which you should immediately familiarize yourself. In many ways, the man is Japan's Danny Boyle; there's not a single genre in which he can't operate. In his latest, and arguably best, film a group of samurai are tasked with killing an evil lord before he is made ruler of all the land. 13 Assassins is exquisitely shot, beautifully performed, and the last thirty minutes amounts to one of the greatest action scenes I have ever witnessed.
Special Features Include: Interview with Takashi Miike, deleted scenes, and theatrical trailer.
Beauty and the Beast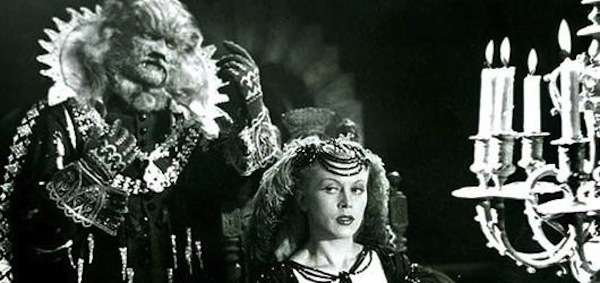 Company: Criterion
Format: Blu-ray
Not to belittle Disney's animated version, but Jean Cocteau's 1946 take on Beauty and the Beast is definitely my favorite. There is something so otherworldly about it and the fantasy effects achieved despite the limitations of the time are spectacular. As per usual, Criterion's transfer is breath-taking and the film has never looked better. It has been said that this is the film that inspired many of the fantasy films of the 80s including Ridley Scott's Legend One glance at the shot wherein Belle runs slowly down a hall with seemingly miles of lace billowing around her and you'll understand.
Special Features Include: Commentaries by film historian Arthur Knight and writer/historian Sir Christopher Frayling, Philip Glass' opera La Belle et la Bête as an alternative soundtrack, interview with cinematographer Henri Alekan, rare behind-the-scenes photos, original trailer narrated by director Jean Cocteau.
Hobo with a Shotgun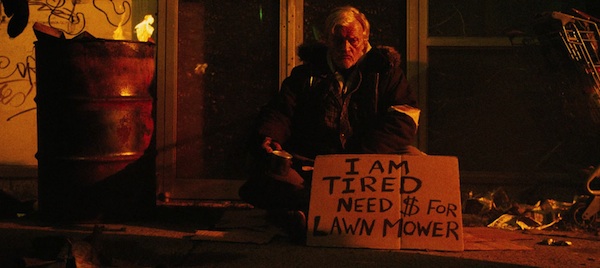 Company: Magnolia Home Entertainment
Format: DVD and Blu-ray
For a while it seemed movies that harkened back to the seedy grindhouse films of yesteryear were a genre unto themselves, but Jason Eisner's Hobo with a Shotgun is not content simply aping the conventions of b-movie past. Instead, he creates something wholly unique even while still utilizing the genre's schlock roots. Hobo with a Shotgun is a tongue-firmly-in-cheek send-up of Troma Studios, They Live, Robocop 2, and a dozen other entities that many of us had to sneak around to watch as kids. Staring Rutger Hauer as the titular armed indigent, Hobo with a Shotgun is as arty as it is magnificently violent. For a film that began life as a fake trailer, Hobo has spawned into something remarkable. If you're looking for both a wickedly good time as well as blood-spattered auteurship, look no further.
Special Features Include: Commentaries with Jason Eisner, Rutger Hauer, Rob Cotterill, and David Brunt, an alternate ending, nine video blogs, deleted scenes, and the original fake trailer that started it all.