Under the Radar: 'The Keep' on Netflix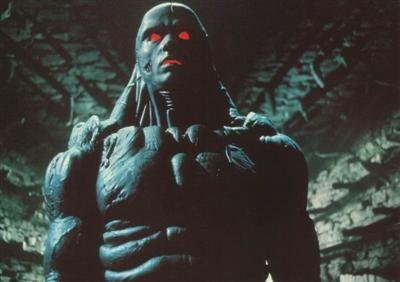 One of the things that truly impresses me about Netflix is its ability to dig up lost relics and give them new life in the Instant Watch museum. In that way, it's sort of like Indiana Jones for the digital age. Living in Austin, with its wealth of indulgences for even the most obscure of movie tastes, I am often spoiled by the privilege of having these esoteric treasures within my grasp; the local video stores Vulcan Video and I Luv Video are due credit for that. But then, when you are a passionate fan of these types of films, striking up a conversation about them is an arduous task because of their scarce availability in most places. This is where Netflix really pays for itself, and that's why I'm so glad 1983's The Keep has just found its way onto the celebrated streaming lineup.
The Keep is an early effort by a fledgling director that unfortunately never found much success beyond this film. I think his name is Michael Mann or something. My ruse is poorly disguised as Mann is, of course, one of the great American filmmakers. Like Ridley Scott, Michael Mann dabbled in fantasy early in his career and, as much as I enjoy Legend, I honestly feel Mann's entry into the genre is far superior. It is the story of a mysterious castle in WWII Romania that becomes occupied by none other than those dastardly Nazis. When supernatural circumstances begin conspiring to decimate their numbers, they call in an expert in the occult and a prisoner of the Jewish internment camps. Can he help solve the mystery before all the Nazis are dead? I sure hope not!
The Keep is an incredible piece of filmmaking. It skillfully walks a genre tightrope between fantasy and horror. It is a monster-movie morality tale where mysticism and magic go hand-in-hand with violence and terror. At times it feels influenced by the Italian horror masters Lucio Fulci and Dario Argento. Thanks in no small part to the cinematography and "Tangerine Dream" score, much of the film feels distinctly dream-like, which effectively tempers the more violent moments, such as spectacular head explosions, for example. As high-genre as it is, The Keep is largely character-driven, which is no small testament to its amazing cast: Gabriel Byrne, Ian McKellen, and Scott Glenn.
Pay special attention to the cinematography in The Keep. Every shot of the film is painstakingly framed to tell a compelling story, often in scenes with little to no dialogue. There is a playfulness with light and perspective that is far more experimental than most fantasy movies would ever dare to be. But what really captures my adoration about The Keep's cinematography is how it subtly, progressively narrows the outside world until we are surrounded by the keep itself. It is claustrophobic and perfect for the central concept.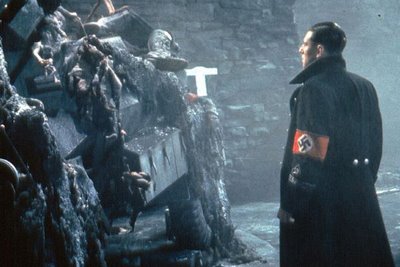 The nature of good and evil is examined quite adeptly and interestingly in The Keep. Although the monster in the center of the structure is so evil as to stir generations of villagers into dedicating their lives to restraining him, his methods manipulate those striving for the greater good. Ian McKellen's character, like Faust, sells his soul and becomes the accomplice of evil in order to see the Nazis punished and the Holocaust ended. It is hard to blame him for his collaboration even if it is blinding him to the true implications of his actions. I would also like to mention that the design of the monster, Molasar, is gorgeous.
Speaking of gorgeous, the Netflix transfer of The Keep certainly earns that label. I was nervous upon first hearing that it add been added to their streaming content, because it was unclear which version of the film I would be revisiting. I have seen this movie on VHS, on LaserDisc, and in 35mm at the Alamo Drafthouse. While both the LaserDisc and the 35mm print were immaculate, the VHS transfer left much to be desired. Kudos to Netflix for opting for the sharpest, most polished version of the film for the stream. I cannot recommend this movie strongly enough, and given that a decent used copy of the VHS can run $30-$60, Netflix has really done the fans of this film a big favor this week.