Under The Radar: 'The Stepfather'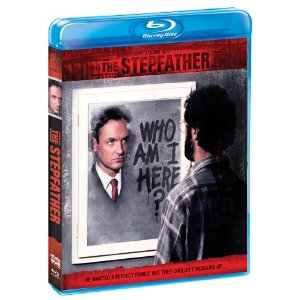 With Father's Day rapidly approaching, and the corresponding mad dash for awful neckties in full swing, I thought I'd take a moment to honor not only biological fathers, but also stepfathers as well. While the stigma is not as lamentable as it once was, stepfathers often face an uphill battle when it comes to raising the preexisting children of their newly acquired family. If you were raised by one such substitute paternal figure, it is my heartfelt hope that you cut the man some slack growing up and that you have maintained a supportive, affectionate relationship to this day. To wit, I offer the 2010 Shout! Factory Blu-ray release of 1987's The Stepfather. Don't misunderstand; I am not suggesting this as a Father's Day gift for your dad or, even worse, your stepdad. But maybe after you've given the flick a watch, you'll better appreciate the stepfather in your life…who never murdered you.
The setup for the plot of The Stepfather reads like any number of commonplace broken home timelines. Original patriarch dies, mother and daughter are briefly forced to rely on one another, and then mom remarries a stranger who may or may not be, but completely is, a serial killer. Yup, turns out this is far from the first family into which all-American sap Jerry has scammed himself. In fact, just last year ol' Jerry grew tired of his then-makeshift nuclear unit and proceeded to hack all of them to bits before skipping town with a newly manufactured identity. It seemed the perfect crime until Jerry's nosey stepdaughter starts asking too many questions.
The fact that The Stepfather isn't more widely known and thoroughly celebrated is a travesty. It is quite possibly one of my all time favorite horror films. No small part of what makes this movie so exemplary is the performance of Terry O'Quinn in the titular role. Quinn has garnered a great deal of attention within the last few years for his work on LOST, on which he plays John Locke. But I don't think it's any huge stretch or flight of over-praise to note that The Stepfather is his very best performance. He plays "Jerry" with such sincere drive for the quintessential "perfect family" that you can't help but find yourself sympathizing with him at various points. But then when the evil beast within him is unleashed, usually in an effort to protect that ideal, the darker, more disturbing facet of his performance is absolutely terrifying.
O'Quinn has the good fortune of not being in the good-actor-in-a-bad-movie conundrum as The Stepfather itself is a wonderfully well-crafted film. The script is laden with taut suspense and slasher movie indulgences as well as wit and biting, sardonic commentary. The film was released at the tail end of the Reagan era and, although the script was written a decade earlier, the parable is no less appropriate. Jerry represents Reagan's, and by extension Nixon's, stubborn adherence to traditional values. This character is a sweater-clad mouthpiece, championing all the most conservative of family values and defending them with extreme prejudice. The film itself acts as a cautionary tale against striving for some mythical measure of perfection that just isn't logical and detracts from basic human understanding and acceptance. Also, Terry O'Quinn beats a guy to death for disparaging the traditional nuclear family model so how could you not want to watch this movie?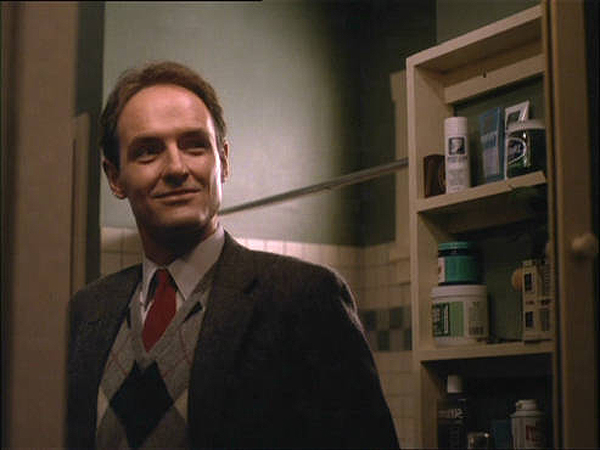 The scariest thing about the plot of The Stepfather is that it is actually based on true events. A New Jersey man named John List lost his job and realized quickly he would no longer be able to keep his wife, three kids and mother in the lavish living style to which they were accustomed. He therefore pretended to go to work every day for weeks as he secretly laid the groundwork for a new identity for himself. Finally, he murdered his entire family and lived for nearly twenty years as someone else with an entirely new family. It's chilling and lends a great deal of legitimacy to The Stepfather.
The Shout! Factory Blu-ray is, as one could expect, gorgeous. The transfer of this stellar horror classic is phenomenal. The featurette "The Stepfather Chronicles" is immensely insightful and features some great interviews, and we are also treated to trailers for not only the original Stepfather but also its two subsequent sequels. I could not possibly recommend this film and this release more highly…though it may in fact be the worst Father's Day gift imaginable. You know what, go get that tie.