Under the Radar: 'Timecrimes'

A piece of news has been dropped into the movie blogosphere of late regarding Dreamworks and the remake of a film of which you've probably never heard. Though, to be fair, it is rare that any foreign film would find a wide audience in the states prior to the release of its American remake so it's usually easy to remain in the dark about it. The sad thing is that often times the foreign original is far superior to its American counterpart and yet gets less than a faction of the remake's publicity. The good news in this case is that the original not only found DVD distribution stateside thanks to Magnolia Pictures, but is also available on Netflix.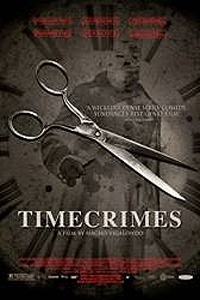 Three years ago, a film by a freshman Spanish director played at Fantastic Fest in Austin, TX that blew away every audience that bore witness to its greatness. The director was Nacho Vigalondo and the film was Timecrimes (Los Cronocrimenes). The basic storyline involves a middle-aged couple idling away an ordinary day at their brand new country home. While in his backyard, the husband spies something very strange in the woods behind his home that then entices him to investigate. It's there that a mysterious bandage-faced maniac stabs him in the arm with a pair of scissors. This random act of violence turns out to be the least of the problems Hector will face as he struggles to survive the world's worst day.
Timecrimes excels on a few very different levels. As a piece of technical filmmaking, it's exceptional. The performances are not only masterful and interesting to watch, but there is something so incredibly genuine about every single character. Recapturing this quality in the remake is going to make casting quite the endeavor. The twisty, suspenseful plot has already garnered comparisons to Hitchcock, but I also see a bit of Hitch in the way it's photographed. The cinematography is simple, but also playful in a fashion that mimics the trademark of the master of suspense.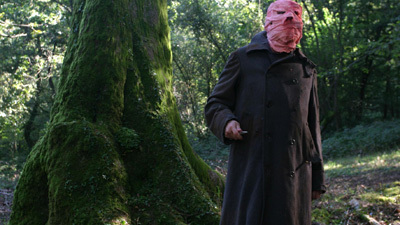 I also love how effectively Timecrimes works as a Sci-Fi film. It is, in fact, a movie about time travel so it isn't hard to classify within the genre. But what I love about the Sci-Fi elements of the film is how elegantly they are woven into an otherwise character-driven drama. Our hero isn't striving to travel back to Victorian London or venture forth into the ominous future, his sole motivation is to comprehend, survive, and then improve the events of the last few hours of his life. It basically does what every great Sci-Fi film should do, it offers an as yet unavailable technological advancement to propel the plot and yet, while it would be easy to pick apart the paradoxes inherent, the time travel is used as a metaphor for regret and the underlying desire everyone shares to be able to correct their mistakes.
Finally, Timecrimes is a triumph of low budget filmmaking. It was produced for an amount that most Hollywood films spend on their craft services and yet still manages to outshine a truckload of blockbusters. It's always a treat to see a movie wherein fascinating story and passionate filmmaking supersedes superficial marketing gimmicks masquerading as style. All the more impressive is when Sci-Fi film succeeds on so meager a budget, but Timecrimes proves its worth in both realms simultaneously. Just because we don't see extended computer-generated sequences of exactly how the time machine works doesn't mean we don't believe it works. Either that or, again, we don't care because Hector's quest is so enthralling.
I would highly, highly recommend seeing Nacho Vigalondo's original Spanish film Timecrimes before the Dreamworks remake hits. If my words have not instilled in you enough confidence to go out and purchase the Magnolia Pictures DVD release, then at least do yourself the favor of acquiring a rental via Netflix.