Universal Buys WWII Epic 'Unbroken', Francis Lawrence May Direct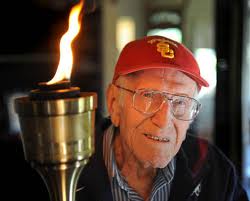 Forgive me for being a little cynical before I started writing this post, I knew not what I was getting into. All I knew was that Universal Pictures bought the rights to a WWII non-fiction book from the author of the Seabiscuit book, Laura Hillenbrand, and the film would potentially be directed by Francis Lawrence and written by Scott Cooper (Crazy Heart). 
Then I found out what Hillenbrand's book is about – Louis Zamperini. Zamp the Champ (if he hasn't ever been called this, it needs to start NOW) has lived one of the most incredible lives. He grew up during the Great Depression, became an Olympic runner and enlisted in WWII. Biopics have been made of lesser men, but we haven't even gotten to the good stuff. He became a bomber in the Air Force, surviving many dangerous missions before crashing but it doesn't stop there. He survives and in the single greatest sentence ever written in a Deadline article, "After surviving hunger, thirst and incessant shark attacks in a raft that drifted 2000 miles (for 47 days), Zamperini was caught by the Japanese Navy and then the hardship really began." Kinda makes that head cold you're suffering through this morning seem insignificant, no? Then there's surviving horrendous Japanese POW camps, returning home, almost ruining his life from alcoholism and then forgiving his captors after listening to Bill Graham. He even got to carry the Olympic Torch. And the guy has the stones to still be alive today.
Apparently Universal has been trying to make turn this guy's life into a movie for 50 years but it keeps stalling. I prefer to think that he keeps doing more and more bad-ass things they can't exclude from the movie. Everyone from Tony Curtis to Nicolas Cage has wanted to play Zamperini, but casting the American hero will be harder than ever today.
Source: Deadline